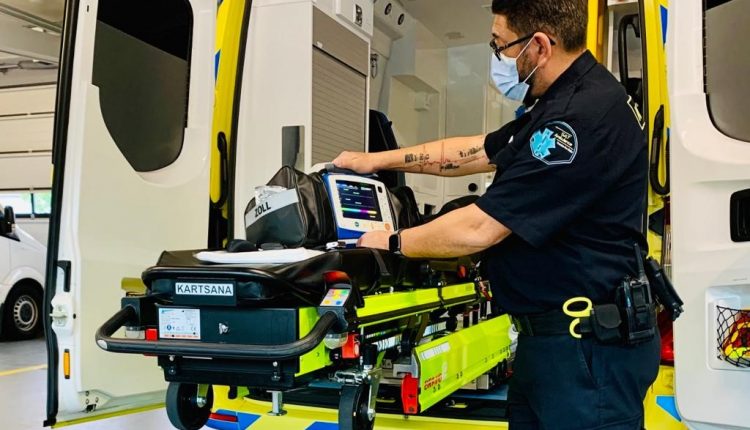 The pandemic as experienced by a rescuer: Stephane Jaccard's experience and SuisseRessources' solution
Every rescuer around the world has experienced the Covid-19 crisis. Stéphane Jaccard's experience has provided a solution to the dangerous and sometimes tragic impact the pandemic has had on rescuers and people in general
It is from his own 30 years of experience that his SuisseRessources has come up with the pocket-sized pack containing a type II surgical mask and a hydroalcoholic solution to take with you wherever you go.
We asked Mr Jaccard, a voluntary rescuer in Switzerland and founder of SuisseRessources, for an interview
1) The Covid emergency in Switzerland: how did it develop and what is the current situation?
"In March 2019, the Swiss state declared a state of crisis, a procedure was set up very quickly, each canton according to cantonal guidelines created a specific emergency operation "in their canton".
An escalation system based on the cases number determined the degree of safety or protection for the ambulance crews.
For example: from an IIR only mask to FFP2 with a Tivex suit.
When a patient could be contaminated, ambulance drivers would intervene with a first responder inside the house, and the second outside the house, except in the case of resuscitation!
The current situation is still based on the same principle, and today we have 2,500 cases a day.
2) You have been a rescuer for a long time: what impact has the pandemic had on rescue work in Switzerland?
"I've been in the field for 32 years, and nothing has changed, the pre-hospital emergencies are still the same.
On the other hand, the management of a health crisis with means that were not adapted during the paroxysmal phases.
Now, the state has invested, and we have the means to react during new waves of Covid-19 in particular!
Ambulance drivers have had to adapt to working in this kind of context, to protect themselves better or in a different way, in particular by working with heavier and less practical clothes such as Tivex".
3) From your experience, the idea of solving a problem: tell us about SuisseRessources' Pocket Box?
"The idea of the Pocket-Box kit came when I was bedridden with dyspnoea due to Covid-19 in March 2019.
I wanted to create a kit that doesn't exist in this form to date it had to respond to all-in-one protection: mask and gel.

My first objective was the individual protection of people. The second was to give work to my region when many companies were closing down.
To give work to people in difficulty and to institutions for the disabled.
We were very affected. For example, in my canton, 44% of people were laid off in the catering/hotel sector".
A useful initiative on all fronts, therefore, which retains its usefulness in this Europe struggling with the coronavirus' fourth wave.
The only thing left to do is to take up the implicit invitation from Switzerland: let's protect ourselves and take great care of our hygiene.
TO SEE SUISSERESSOURCES PRODUCTS VISIT THE BOOTH AT EMERGENCY EXPO
Watch the interview with Stéphane Jaccard (SuisseRessources) in full:
Read Also:
Protection During Rescue Operations: SuisseRessources Products At Emergency Expo
Covid, New Infections In Italy: More Than 10,000, 72 Deaths
Germany, Covid Anxiety: Incidence Never So High Since Start Of Pandemic
Anti-Covid Vaccines, Valneva's Turn: The European Commission Gives The Go-Ahead
Covid In Europe, In Austria Lockdown For Unvaccinated. In France, Masks Are Back In School
Sources:
Emergency Expo Official Website