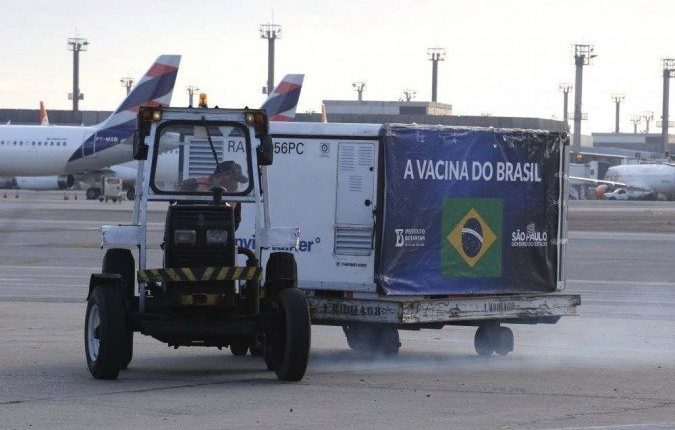 Brazilian vaccine would guarantee autonomy in immunization
Brazilian vaccine against Covid: delays in the arrival of supplies hinder vaccination against Covid-19
At a press conference held yesterday (10), the governor of São Paulo, João Doria, stated that more than 10,000 liters of input for the production of 18 million doses of Coronavac are held in China and delay the Institute's production schedule and, consequently, vaccination against Covid-19 in the country.
Tensions between Brazil and China push away national Covid vaccine
Since the approval of the emergency use of the vaccine, delays in the delivery of the Active Pharmaceutical Ingredient (IFA) have been constant and largely attributed to diplomatic barriers between Brazil and China.
This time, President Jair Bolsonaro's statements on May 5 may have once again contributed to the impasse.
In a public statement, Bolsonaro suggested that China would have benefited economically from the pandemic, stating that Covid-19 may have been created in the laboratory.
Butanvac, Brazil's Covid vaccine, needs active ingredients from China
ButanVac, a Brazilian vaccine developed by the Butantan Institute, is seen as a way to reduce Brazil's dependence on Chinese inputs and diplomatic fluctuations between government officials and the Asian country.
According to the São Paulo government, ButanVac will be ready for use in September.
Butantan has already applied to the National Health Surveillance Agency (Anvisa) for authorization to start ButanVac tests on humans and is in the process of providing additional documents.
The doses already in production at the Institute will be stored and supplied to the population only after authorization by Anvisa.
Read Also:
Butantan Institute Develops ButanVac, The First 100% Brazilian Vaccine Against Covid-19
Pfizer Vaccines Arrive In Brazil And Are Distributed In The Capitals
Vaccine, Moderna Announces Efficacy Against Brazilian And South African Variants
In Brazil Import And Use Of Sputnik V Vaccine Are Refused
Source: