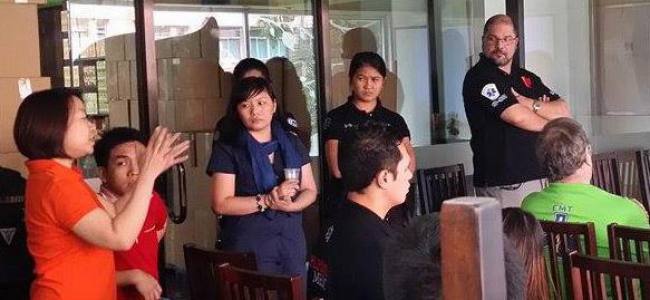 Philippines: Building a better EMS system through discussion
On July 27, 2014 a first in a series of events entitled, "EMS xChange", took place in a small venue in Ortigas Center, Pasig City.
This event was organized and hosted by Mr. Ruel Kapunan of Pilipinas 911, a private ambulance and emergency dispatch service company, and Dr. Carlos Primero D. Gundran, MD, an Emergency Physician and Associate Professor of the University of the Philippines College of Medicine and currently practicing at the Philippine General Hospital.
The event served as a forum for information exchange of real life cases encountered by First Responders and EMT's and practicing physicians and medical specialists. Participants and attendees included representatives from private ambulance companies, Barangay and City based rescue groups, Volunteer/NGO Fire and Rescue groups, EMT training schools, and practicing physicians who served as Subject Matter Experts (SME) on the cases that were presented. The idea came about after Mr. Kapunan and Dr. Gundran discussed the problems and issues facing pre-hospital care providers in the field and identified the need for all stakeholders to have a venue to share their experiences and suggestions on how to make improvements.

Within a few months from their first discussion the event was organized and invitations were sent out through social media and online forums. In order to facilitate an open and free flowing exchange of information a set of "house rules" were established to assure an objective, unbiased approach to the cases presented and to create a learning and progressive, non-partisan atmosphere.
During the course of the event, cases from the participants were presented to the audience and panel of SMEs. The cases were then reviewed and an active discussion followed on the protocols, methods, and skills and tools used to manage the case.
This is one of the foremost objectives of this event as pre-hospital care in the Philippines still sorely lacks a comprehensive understanding of the medical aspects of assessment and patient management. Most emergency calls received by an ambulance team will most likely be trauma related such as vehicular accidents, crime or violence related injuries, or common household emergencies.
However, emergency responders and ambulance crews must also possess the knowledge and skills to properly assess and manage medical emergencies as they are the first on scene in an emergency call and they must act as the bridge between the initial pick up point and the diagnosis of a physician and advanced medical facilities.
As each case was presented other challenges and obstacles that emergency responders face came into view. This is reflective of the state of Pre-hospital medical services in the Philippines is still very much in its infancy.
One of the biggest obstacles to the field of pre-hospital care in the Philippines is the lack of a national standard of practice that can be followed as an acceptable body of knowledge and designates the minimum requirements for an individual who wishes to enter into this field. This will also assure that the job of an EMS provider can also be professionalized and developed into a viable career.
As of this article's writing there is a bill being deliberated upon in the Philippine Congress and Senate that will hopefully be passed as the EMS Law. In the interim the Department of Health has issued an Administrative Order (2014-007) that mandates a National Policy on the establishment of a Pre-Hospital Emergency Medical Service System.
Dr. Gundran shared this with the audience as well as the status of the EMS bill for it to be passed into a law. He also shared with the audience the organizations and institutions that will assist in professionalizing the practice of EMS here in the Philippines.
The lack of a national standard of practice also highlighted an obstacle that was presented in another case which was the adoption of the Incident Command System (ICS). The Philippines being a disaster prone country has had years of experiencing Mass Casualty Incidents (MCI) but has yet to implement ICS as an accepted tool for dealing with such events.
Although many of the participants are trained to handle MCIs and ICS its practical implementation in the local setting is still very much unexecuted. This results in the chaos of the situation multiplying as responders have to deal with unclear priorities, political boundaries, personalities with questionable credentials and a multitude of other factors that hamper or inhibit them from doing their job.
As the final case was presented to the audience another obstacle that is encountered by responders in the field is lack of recognition from doctors and nurses in hospitals of the value and competency of an EMS team that delivers a patient to their emergency room.
With the increasing role and visibility of EMS in Philippine society the training and education provided for its practitioners is still very much fragmented or done in silos with no oversight from a regulating body. This results in responders in the field not knowing the extent or capability of another responder from another team or training center.
Many of these training centers stand apart from universities and colleges where doctors are educated and as such result in traditionally educated physicians to question the reliability of training of responders and subsequently their competency in the field.
An additional factor to consider is that many medical responders that are Barangay or City based only have the most basic of first aid training and equipment and in most instances the responses to emergency calls will result in a "Load-and-Go" scenario with the barest of assessment and patient management. In many instances the ambulance based within a local government unit's disaster response team will also be used as a utility vehicle more often than an actual ambulance to maximize its usefulness for locales with small budgets and funding resources.
Consequently this has resulted in many emergency room doctors and nurses in having a negative bias towards emergency responders and has created an overgeneralization of the competence and capabilities of even the most qualified emergency responders.
In some hospitals this has resulted in responders being held "hostage" until the patient's relative or guardian will arrive or until administrative paperwork is properly filled out, endorsed and signed off by the hospital's designated releasing authority.
One representative from a private ambulance company that works with a large tertiary hospital in the city suggested that EMS and Rescue Organizations should map out the locations of the hospitals in their area as well as notable specialty hospitals in order to identify the most appropriate medical facility to transport their patients.
He further suggested that each group build relationships with these hospitals, especially their emergency staff and doctors, so that they can be recognized for their value and competence in responding to emergencies and managing patients prior to their arrival in the emergency room. He also cited his own company's practice of deploying their students as on-the-job trainees (OJTs) to their client hospital so that they can become familiar with hospital's processes and procedures so that it will part of their foundation of knowledge when they are deployed in the field.
The event concluded with knowledge and stories shared among the attendees. The event also served as a way for the participants to build connections and relationships with fellow responders and for them to recognize each other in the field.
With the Philippines's growing economy and population both the demand and need for pre-hospital emergency services is slowly and surely becoming a very critical necessity.
This event hopes to create unity and clarity in Pre-hospital patient care in the Philippines and will hopefully promote unity and cooperation between Emergency Responders wherein they have clearly identified the roles and importance of each team involved.
Benedict "Dinky" de Borja has been a volunteer Firefighter + Medic for the Pateros Filipino-Chinese Volunteer Fire and Rescue Brigade for the last 5 years. He helps Dr. Sixto Carlos on topics such as Emergency and Disaster Preparedness, as well as First Aid.