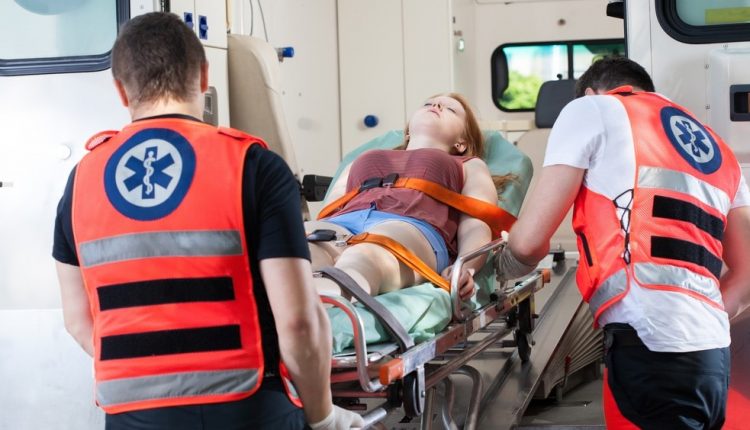 Rescue in the world: what is the difference between an EMT and a Paramedic?
Summer is just around the corner, and the difference between an EMT rescuer and a paramedic becomes important as we resume tourism and visit places that the Covid-19 pandemic has long precluded
So, in times of need, understanding who has the skills to do what becomes relevant.
What is the difference between an EMT and a Paramedic?
EMS personnel rescue victims of an accident or take care of a patient with a medical emergency.
Most EMS rescuers are certified at the level of EMT or Paramedic.
Both work in a variety of roles and in different healthcare settings.
Ground ambulances, helicopters, industrial security and fire brigades are often the places where they are deployed.
They both wear uniforms and they both help patients – so what's the difference?
In the field of emergency medical services (EMS), there are different levels of certifications for providers.
Emergency Medical Technicians (EMTs) are the most common type of providers in EMS and are sometimes referred to as EMTs.
EMTs learn the essential skills to help in life-threatening situations and many EMTs go on to earn an  Advanced EMT certificate or become a Paramedic.
Many doctors, nurses, and firefighters have also used their EMT education and work experience as stepping stones in their careers.
The biggest difference between EMTs and Paramedics is the amount of education they receive and the level of care they provide  for patients (i.e. scope of practice)
Emergency Medical Technician (EMT) students complete a course that is a minimum of 170 hours in length.
EMTs are educated in assessing a patient and determining if any life threatening injuries or illnesses may be present.
This includes splinting injuries for a patient following a motor vehicle collision, administering life saving epinephrine for a patient suffering an allergic reaction, or even administering CPR to a patient in cardiac arrest.
Other skills the EMT will learn include oxygen administration, bag valve mask ventilations, delivery of a newborn, and even administration of several medications.
An EMT's assessment skills, the ability to quickly recognize if someone is dying, is the best tool in their tool box and the primary focus of the EMT education.
In general, to be eligible for enrollment into an EMT course you do not need to have any previous medical experience.
The eligibility requirements and prerequisites for EMT and paramedic courses may vary from school to school.
Be sure to check with the school's and your state's regulations before you enroll for a course.
For example, in California you must be at least 18 years of age to be eligible to certify as an EMT.
VISUAL AIDS FOR AMBULANCES? VISIT THE STREAMLIGHT BOOTH AT EMERGENCY EXPO
Paramedic (PM) students complete a program between 1,200 to 1,800 hours and may last six to twelve months

Topics covered in paramedic courses include anatomy and physiology, cardiology, medications, and medical procedures.
Paramedic courses build on EMT education and teach skills such as administering medications, starting intravenous lines, providing advanced airway management, EKG Interpretation for patients, and learning to provide emergency care to patients with  life-threatening medical or traumatic emergencies.
Caring for the victims of a motor vehicle crash, interpreting the EKG of a heart attack patient, or delivering a baby; these are all patients a paramedic must be prepared to assist during their shift.
Through a combination of lectures, skills labs, followed by hospital internship, then EMS field internship, students are prepared to pass the national certification exams to achieve the highest certification level of pre-hospital care provider in the United States.
To be eligible for a paramedic course you must be an EMT and generally have at least 6 months of work experience as an EMT
Paramedic Programs may have different admission requirements.
Some require you to take college level Anatomy and Physiology prior to admission, many have personal health requirements such as proof of immunizations and a physical as an admission requirement.
Schools may also require a criminal background check, admissions interview, or an entrance exam to determine your eligibility for admission.
Each school has slightly different requirements but the goal is to select those candidates who will be successful in the training program.  .
How Do I Become an EMT or a Paramedic?
In order to become an EMT or a Paramedic, there are five (5) major steps that you will need to complete, which may vary from state to state.
In California, for exemple, you must:
Meet the eligibility requirements and prerequisites for attending an EMT or Paramedic course, including Basic Life Support (BLS).
Attend and successfully complete an approved 

EMT

 or 

Paramedic

course.

Take and pass the National Registry of Emergency Medical Technicians

(NREMT) EMT or Paramedic computer based exam.

Take and pass the National Registry of Emergency Medical Technicians (NREMT) EMT or Paramedic skills exams.
Apply and obtain for certification within two years of being issued a course completion certificate.
Read Also:
Emergency Live Even More…Live: Download The New Free App Of Your Newspaper For IOS And Android
EMT, Which Roles And Functions In Palestine? What Salary?
EMTs In The UK: What Does Their Work Consist Of?
EMT, Which Roles And Functions In Bangladesh? What Salary?
Emergency Medical Technician (EMT) Roles And Functions In Pakistan
REV Group Opens Ambulance Remount Center In Ohio
Covid In The USA, Los Angeles Decimated In Rescuers: 450 Firefighters Positive To Covid, In Crisis The Ambulance Sector
Ambulances In USA: Demers Announces MacQueen Emergency As New Ambulance Dealer For Illinois & South Dakota
USA, 'Someone Needs To Step Up': NY High Schoolers Get EMT Licences To Help With Ambulances
Souce: