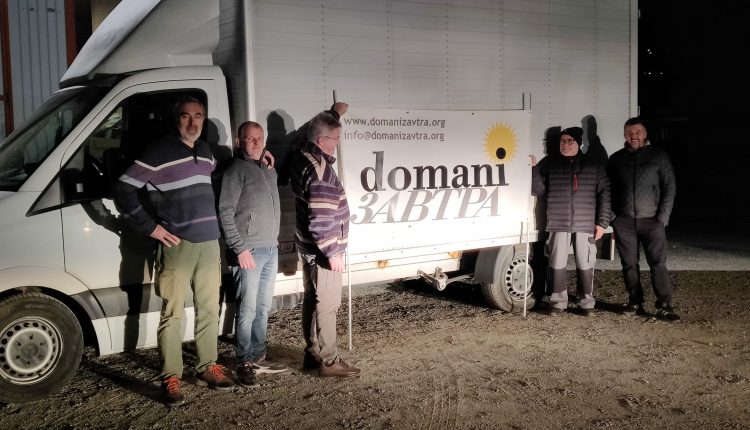 From Italy three ambulances and two truckloads of medicines donated to Ukraine thanks to DomaniZavtra
From Brescia (Italy) to the tormented Ukraine: three ambulances and two vans loaded with medicines, medical equipment and medical-surgical aids. Thirteen volunteers from the Camonica-based association DomaniZavtra, led by president Diego Simonini, will leave Pisogne on Saturday morning for the Ukrainian border
From DomaniZavtra a request for help for the Ukrainian people
The three vehicles were donated by as many Brescian associations that responded to DomaniZavtra's appeal: Cosp of Mazzano, Soccorso Ambulanza Roncadelle Castel Mella, and the Volontari Ambulanza of Nuvolento.
The medical equipment, on the other hand, is the result of the generosity of many organisations, individuals and companies. From Brescia, but also from Bergamo, Verona and even Como.
It is the fruit of the solidarity activity that the association (Zavtra, in Russian, means "tomorrow") has been carrying out for twenty years in favour, in particular, of Ukrainian orphanages.
Some information on DomaniZavtra:
DomaniZavtra was founded in 2002 with the desire to continue, albeit in a different way, the commitment started by Caritas in the 1990s, when hundreds of orphans from the areas near the Chernobyl power station were hosted in Sebino and Valcamonica.
Nine trucks loaded with food and medicine have left for Ukraine in the past month, and another – in preparation – will reach the country next week, bound for Chernihiv. On Saturday, the three ambulances and two vans.
Thanks to the relations built up over the years with Ukrainian organisations, institutions and authorities, the association knows what, how and where to send the aid.
There have also been targeted transports at the request of hospitals and health structures, for example of insulin or instruments for emergency medicine.
A defibrillator and a machine for treating war wounds will also arrive with Saturday's trip.
Read Also:

Emergency Live Even More…Live: Download The New Free App Of Your Newspaper For IOS And Android
War In Ukraine, Fire Brigade Restores Water To Kharkiv Citizenship
Saving Lives Despite The War: How The Ambulance System Works In Kiev (VIDEO)
Ukraine: UN And Partners Deliver Aid To The Encircled City Of Sumy
Ukraine Emergency, The Italian Red Cross Returns To Lviv
War In Ukraine, Lviv Region Received Ambulances From Lithuanian Seimas
US Sends 150 Tonnes Of Medicines, Equipment And An Ambulance To Ukraine
Ukraine, Ukrainians From Reggio Emilia And Parma Donate Two Ambulances To The Kamyanets-Podilsky Community
Lviv, A Tonne Of Humanitarian Aid And Ambulances From Spain For Ukraine
War In Ukraine: The Kropyvnytskyi Children's Hospital Received An Ambulance From A German Clinic / VIDEO
Source: