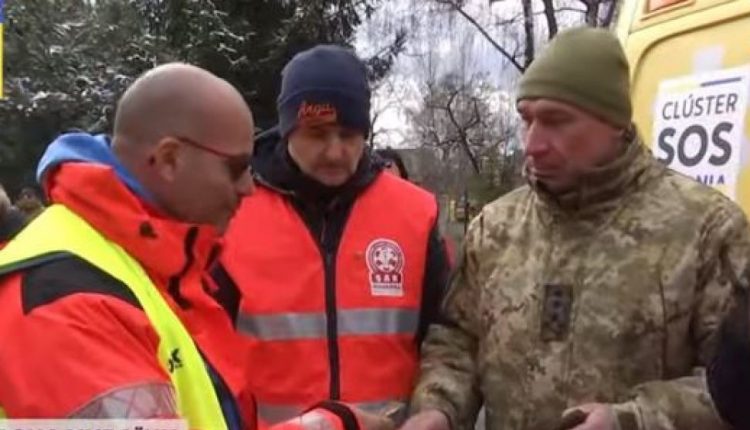 Lviv, a tonne of humanitarian aid and ambulances from Spain for Ukraine
From Spain to Ukraine: one of the ambulances for Lviv donated by the nuns of the Order of Santa Clara
A humanitarian shipment has arrived in Lviv (Ukraine) from Spain: ambulances and a ton of medicines
Entrepreneurs, volunteers and doctors have collected tens of thousands of euros and are ready to help.
Humanitarian aid from Spain is being unpacked in a military hospital in western Ukraine.
Systems for treating wounds are the most valuable items contained in the shipment: they are now in short supply, the cheapest ones costing a thousand dollars.
"We received help from the Civil Guard and the Spanish National Police.
There is a lot of medical equipment and medicines needed to provide medical care for our wounded and injured in order to get them in order as soon as possible," say the doctors.
Ukraine: in addition to medicines and equipment, three ambulances arrived from Spain
"All ambulances are fully equipped – with surgical and medical equipment inside, all to provide assistance to the Ukrainian army.
At such a difficult time for Ukraine, we cannot stand aside," said Roberto Rubio, head of the Sos Ukrania humanitarian mission.
"We received a request from Ukrainian nurses that there is a need for medical and sanitary material.
We started to collect, volunteers, entrepreneurs from the city of Pamplona and others joined us," adds Leticia San Martin, a member of the organisation Nurses without Borders.
Interestingly, the humanitarian cargo was collected and delivered not by diasporas, but by citizens in Spain, who theoretically have nothing to do with Ukraine

"I am a nun from the Order of Santa Clara, we help buy one of the ambulances.
There are 600 Ukrainians living in our monastery in Barcelona, and I have a mission to tell all of Europe that Ukraine is a victim, Ukraine has been attacked, Ukraine is suffering and needs our help with you," said the Spanish nun .
There is also an agreement that Spain will take part in the treatment and rehabilitation of the wounded soldiers.
Read Also:
Emergency Live Even More…Live: Download The New Free App Of Your Newspaper For IOS And Android
Saving Lives Despite The War: How The Ambulance System Works In Kiev (VIDEO)
Ukraine: UN And Partners Deliver Aid To The Encircled City Of Sumy
Ukraine Emergency, The Italian Red Cross Returns To Lviv
War In Ukraine, Lviv Region Received Ambulances From Lithuanian Seimas
US Sends 150 Tonnes Of Medicines, Equipment And An Ambulance To Ukraine
Ukraine, Ukrainians From Reggio Emilia And Parma Donate Two Ambulances To The Kamyanets-Podilsky Community
Source: