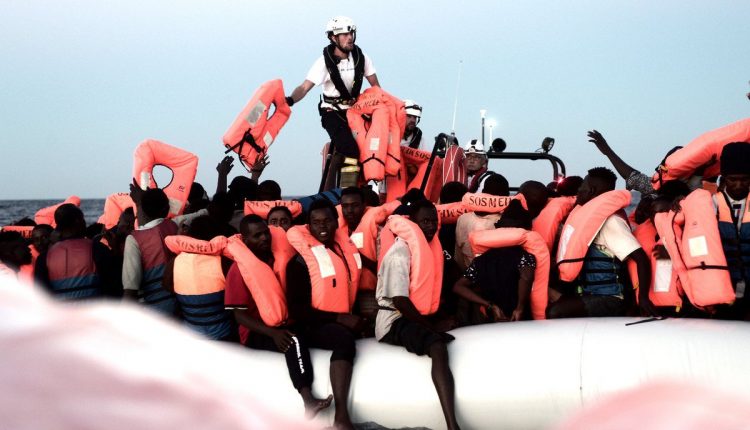 Ravenna, fire brigade supporting the Ocean Viking landing operations
On 31 December, the NGO Ocean Viking arrived at the port of Ravenna with about 130 migrants on board
Impressive security measures and those supporting the disembarkation and reception operations with around 200 people including police, doctors and volunteers.
TECHNOLOGICAL INNOVATION AT THE SERVICE OF FIRE BRIGADES AND CIVIL PROTECTION OPERATORS: DISCOVER THE IMPORTANCE OF DRONES AT THE FOTOKITE BOOTH
Ocean Viking, the fire brigade was engaged in providing urgent technical rescue
The rescue machine was set in motion at dawn with the presence of an advanced command post, a fire engine and a light truck. The task of the fire brigade was also to provide logistical support to the shelter.
THE BEST EQUIPMENT FOR HEMS OPERATIONS? VISIT THE NORTHWALL BOOTH AT EMERGENCY EXPO
Prefect takes stock of the Ocean Viking
Prefect Castrese De Rosa said: "I want to thank the organisational machine we set up in four days to guarantee the 113 migrants on board the Ocean Viking a dignified welcome.
Once again Ravenna has shown that it knows how to do it, that it is up to the challenge of an unprecedented experience, a mobilisation of women and men strairdinari.
Over 100 units of law enforcement, fire brigade, coast guard, 100 volunteers, the Red Cross, Ausl Romagna with doctors and nursing staff, and even the head of paediatrics Marchetti, the health and regional leaders, from Tiziano Carradori to Mattia Altini, all present and rolling up their sleeves for an ordeal that we wanted above all to be heartfelt and with a smile, because it was a matter of welcoming children, women and men".
The prefect continues: "In the end, 7 women and 1 man were hospitalised for further investigations, also for violence suffered, some already discharged in the evening.
All of them then finished their medical and police duties and were accompanied to the reception centres, including the minors.
All this was possible thanks to the perfect synergy between regional, state and municipal institutions, the extraordinary commitment of the Cri and Usmaf, Caritas and the many volunteers, and the company that manages the Cruise Terminal.

My thanks to everyone, including the press who, as always, reported with exemplary seriousness and professionalism".
THERMAL IMAGING AND THERMAL CAMERAS: VISIT THE FLIR BOOTH AT EMERGENCY EXPO
Read Also
Emergency Live Even More…Live: Download The New Free App Of Your Newspaper For IOS And Android
Italy / Ischia, Bodies Of Deceased Found Rise To 6, There Is A Baby. Six Missing
Landslide And Rivers Of Mud In Ischia, People Missing: Rescuers At Work
Earthquake Bag : What To Include In Your Grab & Go Emergency Kit
Tragedy Near Lyon, Fire In An Apartment Building: 10 Dead Including 5 Children
Fleeing Lviv: Italian Red Cross Convoy Arrives In Rome With 83 Ukrainian Refugees
Russia, Red Cross Helped 1.6 Million People In 2022: Half A Million Were Refugees And Displaced Persons
Rohingya Refugees Are Reaching Indonesia, But With Great Worry Of The UNHCR
Source