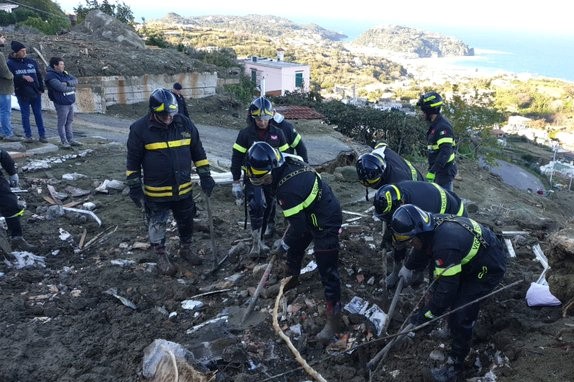 Italy / Ischia, bodies of deceased found rise to 6, there is a baby. Six missing
Ischia (Italy) / The number of confirmed victims of the bad weather in Casamicciola rises to two: the body of a six-year-old girl has been found, as well as that of 31-year-old Eleonora Sirabella
The number of people killed in the landslide caused by bad weather in the Ischian town of Casamicciola on 26 November has risen to six, when a portion of Mount Epomeo broke away and fell into the sea, dragging everything in its path: trees, cars, houses and people.
Today, with the rain having stopped falling, the search is bringing to light the bodies of people who had been missing since yesterday morning, swept away by mud and debris or left inside houses that had collapsed.
After yesterday's discovery of a 31-year-old woman, the fire brigade found five bodies today.

ISCHIA: 6 BODIES INCLUDING A LITTLE GIRL, A 16-YEAR-OLD BOY AND AN INFANT
This morning, the body of a little girl was found, sniffed out by dogs searching inside an overturned house.
It is a little girl of about six years old: the corpse was under a mattress.
Another body, of an elderly woman, was also found in the area of Via Celario.
Then, in the afternoon, the morgue of the Rizzoli hospital in Lacco Ameno also received the body of a 50-year-old Bulgarian woman and that of a boy of about 16 years old, possibly the brother of the six-year-old girl found this morning.
Two more bodies, allegedly belonging to a woman and an infant, are on their way to the morgue.
Among those same ruins, rescuers continue to dig for the presence of other people.
At 6 p.m. in the Prefecture in Naples there will be a new summit for the official assessment of the situation.

167 EVACUEES HOSTED IN HOTELS IN ISCHIA
It has not rained in Casamicciola for a few hours now and daylight is shining on the mud and slime that covered the district of the municipality of Ischia that was swept away by a landslide around 5am yesterday.
The search is still on for the missing.
This morning the bodies of a little girl and an elderly woman were found, while yesterday the death of a woman was ascertained: she is a 31-year-old local woman, Eleonora Sirabella.
Her body was found yesterday near Via Celaro.
There are four injured, one of whom has been transferred in a reserved prognosis to the Trauma Centre of the Cardarelli hospital in Naples.
There are 167 evacuees: most have spent the night in hotels and some have preferred to find an independent solution.

RESCUERS ON THE JOB ALL NIGHT
The damage count will be painful and long.
The rescuers have never been out of action, working through the night with the darkness pierced by powerful floodlights powered by generator sets.

Mudslides and debris, in some places up to two metres high, were removed with excavators and shovels.
A total of 220 police, carabinieri and financial police units were involved, in addition to 150 fire brigades.
Foresters with drones are also on site.
Images from above, taken from the Carabinieri helicopter, recount the devastation.
Yesterday's grey has given way to the vivid colours of nature with large areas of mud that has even coloured the sea below the coastline brown.
ISCHIA, 15 BUILDINGS INVOLVED: HOUSE-BY-HOUSE CHECKS UNDERWAY
"The houses affected by the landslide – specifies the prefect of Naples Claudio Palomba on the sidelines of a morning meeting with the press – at the moment there should be 15″.
"The weather," he adds, "today is helping us more and so a whole series of further activities have been set in motion, including the identification of buildings, the detection of meters, so as to verify any buildings where there is no more power.
At work there is a 'collective effort' supported by the aid of various means and instruments, 'also extremely up-to-date and modern'.
"With better weather, activities will be intensified today and we hope," Palomba concludes, "also to have good news about the missing.
Read Also:
Emergency Live Even More…Live: Download The New Free App Of Your Newspaper For IOS And Android
Landslide And Rivers Of Mud In Ischia, People Missing: Rescuers At Work
Earthquake Bag : What To Include In Your Grab & Go Emergency Kit
How Unprepared Are You For An Earthquake?
Emergency Backpacks: How To Provide A Proper Maintenance? Video And Tips
What Happens In The Brain When There Is An Earthquake? The Psychologist's Advice For Dealing With Fear And Reacting To Trauma
Earthquake and How Jordanian hotels manage safety and security
PTSD: First responders find themselves into Daniel artworks
Earthquakes And Ruins: How Does An USAR Rescuer Operates? – Brief Interview To Nicola Bortoli
Earthquakes And Natural Disasters: What Do We Mean When We Talk About The 'Triangle Of Life'?
Earthquake Bag, The Essential Emergency Kit In Case Of Disasters: VIDEO
Disaster Emergency Kit: how to realize it
Source: