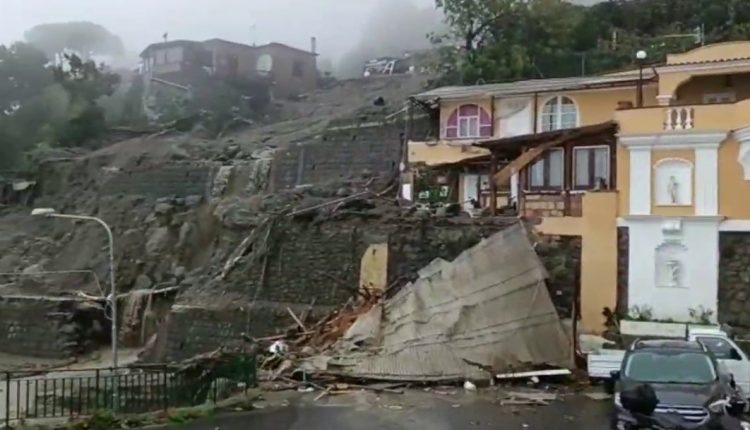 Landslide and rivers of mud in Ischia, people missing: rescuers at work
The bad weather has violently hit the island of Ischia: in Casamicciola there are missing people, including a family consisting of husband, wife and an infant
Ischia in the grip of bad weather: rescuers' actions
Thirteen people were initially missing, but rescuers have just recovered one alive.
Regional Civil Protection teams have been at work since dawn this morning on the island of Ischia to support the population affected by the landslides that have affected Casamicciola and other parts of the island.
Other volunteers, Sma Campania and dog units coordinated by the regional operations room are arriving from all over Campania equipped with rescue vehicles: mechanical shovels, bobcats, motor pumps, water pumps, excavators and light towers to ensure the continuity of operations into the evening.
President De Luca and the director of the Regional Civil Protection, Italo Giulivo, are attending the Relief Coordination Centre convened at the Prefecture.
Connections by sea to Ischia from Naples are currently interrupted.
Only trips from Pozzuoli are guaranteed, with priority given to rescue teams.
Other volunteers have been sent to the Municipal Operations Centre set up by the Prefectural Commissioner.
The Asl Napoli 2 has immediately activated the helicopter rescue service.
Bad weather struck the island of Ischia violently:
Around 5 a.m., a landslide occurred in Casamicciola and several people are missing, including a family consisting of a husband, wife and an infant.
The landslide occurred around 5am and swept away two houses in Via Celario.
In addition to the family with the newborn baby, other people are also missing.
In addition to the landslide incident, rivers of mud swept over cars.
One man was dragged away but was rescued.
At the moment, 12 people are missing, but the number could increase.
The Carabinieri gave the news.

ISCHIA: CARS SWEPT AWAY BY LANDSLIDE, A MAN DRAGGED AWAY BY THE MUD
Investigations are underway to ascertain the identity of the missing and whether there are others.
The police, civil protection and fire brigade are on the scene, and reinforcements have been sent from Naples to support them.
In the early hours of the morning, rescuers had reached and rescued a man dragged by the mud.
Several cars swept away by the landslide, which reached as far as the seafront in Piazza Anna De Felice, ended up in the sea.
Read Also:
Emergency Live Even More…Live: Download The New Free App Of Your Newspaper For IOS And Android
Earthquake Bag : What To Include In Your Grab & Go Emergency Kit
How Unprepared Are You For An Earthquake?
Emergency Backpacks: How To Provide A Proper Maintenance? Video And Tips
What Happens In The Brain When There Is An Earthquake? The Psychologist's Advice For Dealing With Fear And Reacting To Trauma
Earthquake and How Jordanian hotels manage safety and security
PTSD: First responders find themselves into Daniel artworks
Earthquakes And Ruins: How Does An USAR Rescuer Operates? – Brief Interview To Nicola Bortoli
Earthquakes And Natural Disasters: What Do We Mean When We Talk About The 'Triangle Of Life'?
Earthquake Bag, The Essential Emergency Kit In Case Of Disasters: VIDEO
Disaster Emergency Kit: how to realize it
Source: