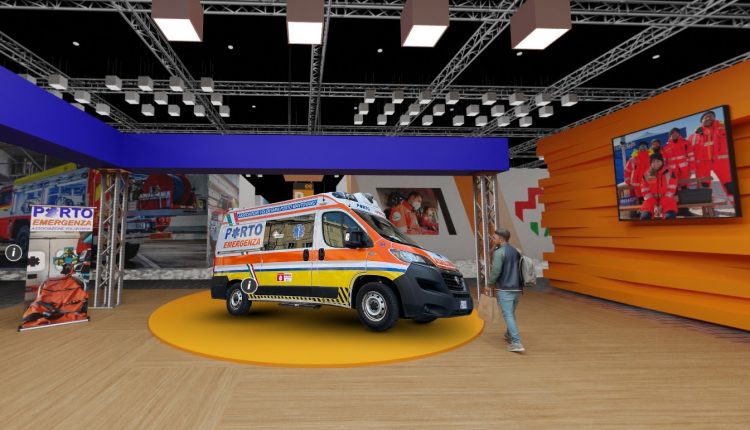 ANPAS Volunteering: Porto Emergenza lands at Emergency Expo
We welcome Porto Emergenza, the ANPAS voluntary association in the province of Mantua, to Emergency Expo
Porto Emergenza, a non-profit voluntary association belonging to ANPAS Public Assistance based in Porto Mantovano, provides first aid, assistance and transport for the sick
And we are delighted to host this historic organisation at the virtual 3D Emergency Expo.
Active in emergency services and teleservice, Porto Emergenza is the first association in the province of Mantua and the fourth in Lombardy to have activated the mobile resuscitation service with a doctor-anaesthetist, on board the ambulance, during weekends and holidays.
Telesoccorso is a public utility service created with the aim of helping elderly people who are alone or live with relatives who for whatever reason have to be temporarily absent.
In addition to these services, Porto Emergenza also provides scheduled transports using an ambulance, assistance services at events and sports events, and protected transport for handicapped children.
Porto Emergenza promotes, through its certified instructors, basic courses for simple medical transport operators, intermediate courses for medical transport operators, and advanced courses for AREU 118 emergency/urgency operators.
In addition, it runs courses for Progetto Pad – Public Access Defibrillation (lay operators qualified to use a defibrillator) – blsd and pblsd and courses for citizens on Paediatric Emergencies and Prevention for adolescents.
In addition, the association also organises First Aid training courses for schools, companies and ordinary citizens.
WOULD YOU LIKE TO DISCOVER THE MANY WONDERFUL ACTIVITIES OF THE ANPAS EMERGENCY PORT VOLUNTEERS? VISIT THEIR BOOTH AT EMERGENCY EXPO

Porto Emergenza, focus on training ANPAS volunteers
To carry out these training events, the association relies on volunteers and employees with ANPAS and AREU instructor qualifications.
Porto Emergenza is also a training site accredited to teach courses according to the AHA – American Heart Association – didactics, with particular reference to BLS training for both lay and professional medical personnel.
All aspiring ambulance rescuers on transport duty must undergo the Second Responder training course followed by a minimum six-month shadowing period.
While aspiring ambulance rescuers for ambulances in the emergency (118) service must, after being identified by the services manager, follow the training course for the first-car rescuer and carry out a period of shadowing with a 118 crew chief.

Porto Emergenza is also actively collaborating with Intersos to organise humanitarian missions to Ukraine.
With one mission, people were rescued, while two other trips delivered medicines and medical supplies, two ambulances to Moldova in Palanca (58 km from Odessa) and a field tent to Lviv in Ukraine.
Volunteers are moving to prepare for further humanitarian missions.
Read Also:
Emergency Live Even More…Live: Download The New Free App Of Your Newspaper For IOS And Android
War In Ukraine: In Lutsk, Rescuers Taught First Aid To Volunteers
War In Ukraine, The World Of Emergency In Support Of Healers: MSD Launches Ukrainian Language Site
Invasion Of Ukraine: Four More Ambulances Have Arrived In The Lviv Region From Great Britain
War In Ukraine, Ambulance Fitters On The Front Line: Validus Sends Emergency Vehicles To Kiev, Cherkasy And Dnieper
War In Ukraine: 15 More Ambulances Arrive In Bukovina From Italy
Ukraine Emergency, The Drama Of A Mother And Two Children In The Words Of Porto Emergenza Volunteers
Ukraine Emergency, From Italy To Moldova Porto Emergenza Donates A Camp Tent And An Ambulance
Porto Emergenza For Ukraine, The Third Mission Was In Lviv: An Ambulance And Humanitarian Aid To Intersos
Source: