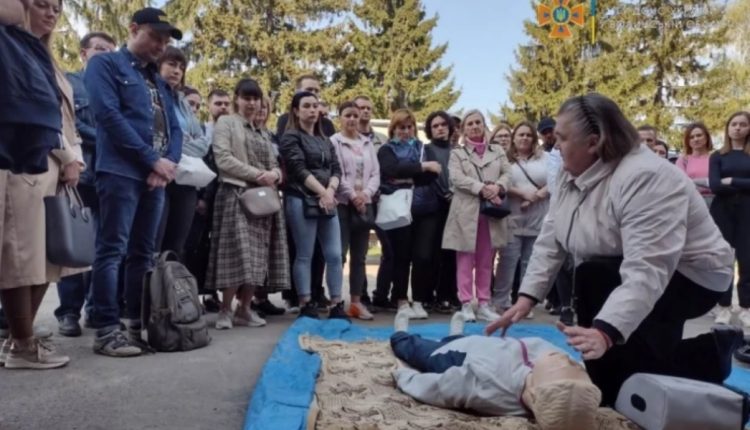 War in Ukraine: in Lutsk, rescuers taught first aid to volunteers
First aid in Lutsk: the war in Ukraine has put first aid in the spotlight as a means of saving a fellow citizen from injury when rescuers may have difficulty intervening
In Lutsk, rescuers conducted training courses for volunteers who signed up for voluntary civil protection training
This was reported on the Facebook page of the State Emergency Service of Ukraine in the Volyn region.
The rescuers trained the volunteers with respect to the procedures for providing first aid, the procedure for conducting individual rescue operations, safety rules in mines and general requirements for safety at work.
More than 60 citizens of Lutsk took part in the exercises.
These events are organised by the local authorities, the State Emergency Service of the region and its local administrations, the Training and Methodological Centre of the Central Administration and the BJD of the Volyn region.
Read Also:
Emergency Live Even More…Live: Download The New Free App Of Your Newspaper For IOS And Android
What Should Be In A Paediatric First Aid Kit
Ukraine Under Attack, Ministry Of Health Advises Citizens About First Aid For Thermal Burn
Electric Shock First Aid And Treatment
RICE Treatment For Soft Tissue Injuries
How To Carry Out Primary Survey Using The DRABC In First Aid

Heimlich Maneuver: Find Out What It Is And How To Do It
10 Basic First Aid Procedures: Getting Someone Through A Medical Crisis
Wound Treatment: 3 Common Mistakes That Cause More HARM Than Good
Most Common Mistakes Of First Responders On A Patient Affected By Shock?
6 Common Emergency First Aid Mistakes
War In Ukraine, The World Of Emergency In Support Of Healers: MSD Launches Ukrainian Language Site
Invasion Of Ukraine: Four More Ambulances Have Arrived In The Lviv Region From Great Britain
Venari Group Commences Building Ambulances For Ukraine
Ukraine Receives Second Batch Of Equipment For Firefighters And Rescuers From France
War In Ukraine: Armoured Ambulances From Venari Group Arrive In Lviv
Ukraine Emergency: Vinnytsia Children's Hospital Receives Ambulance And Medicines From Its Polish Colleagues
Ukraine, Chernihiv Rescuers Receive Vehicles And Equipment From European Donors
Source: