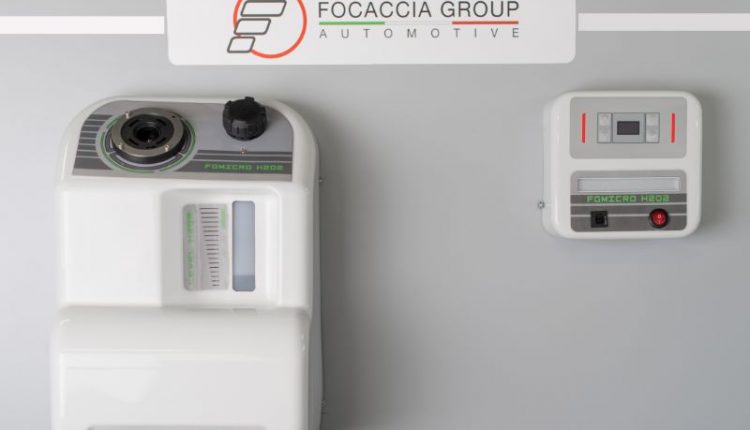 FG MICRO H2O2: Focaccia Group launches the new system for the disinfection of ambulances
FG MICRO H2O2: Focaccia Group continues its approach to the world of rescue and emergency and does so with the new system for the sanitization of ambulances 
The FG MICRO H2O2 atomizer, the new reference product for doctors, nurses and rescuers
This innovative disinfection system designed by the Focaccia Group is particularly revolutionary because it bases its action on hydrogen peroxide.
A material, the latter, particularly effective for the sanitation of rescue vehicles and not only.
Being, in fact, a non-toxic and non-carcinogenic substance, it is suitable for all types of environments, both external and internal.
But how does it work?
Hydrogen peroxide is particularly advantageous because it uses theoxygen oxidizing agent by stabilizing it with water.
The atomizer used causes hydrogen peroxide to be nebulized into small particles, which, at their turn, spread in the environment.
In this way, the molecules begin their disinfectant action and prevent the reproduction of the virus.
Once its sanitizing action is finished, hydrogen peroxide degrades into water and oxygen, without creating damage to either the environment or people.
Afterwards, the sanitized spaces become immediately usable without the need for aeration.
FG MICRO H2O2, a sanitation tool for rescue vehicles that testifies, once again, to the company's commitment to research and development, with truly amazing results. 
Since 2020, Focaccia Group realizes a system for the disinfection of environments, surfaces and vehicles.
From this project comes an application designed specifically for the world of ambulances, with the right claim to become a point of reference.
Let's find out more with Jari Uguccioni, Focaccia Group representative, who explains in depth the characteristics of the innovative disinfection system.
 
In the first instance, since this is a product recently presented on the market, what are its technical characteristics and what is its element of absolute novelty?
It is a patented system for the atomization of hydrogen peroxide that allows in less than 1 minute to disinfect the inside of the ambulance.
We thought of two solutions: a system for new ambulances, integrated into the wall of the sanitary compartment, and a system to be installed on vehicles already operational.
And it is the machinery that we show you today.
Very compact, FG MICRO consists of two units.
The dispensing unit contains inside a 200 ml tank in which the hydrogen peroxide must be inserted.
With this capacity it is possible to carry out up to 20 disinfections.
The control unit, on the other hand, is integrated into the dashboard in the driver's cab.
So it can be operated with great ease by the operator.
A system that will therefore be perfect for the disinfection of ambulances, but not only…
Hydrogen peroxide is already widely used in hospital wards and operating theatres.
It does not corrode and respects the surfaces with which it comes into contact, including electronic components.
Moreover, the recent Protocol for sanitizing ambulances signed by SIIET, the Italian Society of Territorial Emergency Nurses, recognizes peroxide as one of the excellent solutions for the sanitization of ambulances.
An innovative tool can sometimes require precise skills.  What training is needed to use it?

Ease of use is one of the strengths of FG MICRO: no specific training is required.
The operator must check that the tank is refilled and start the disinfection process by pushing a button.
The atomizer will have already been set to sanitize the compartment and will provide only the necessary amount, without waste.
Thanks to the data processing software, it is possible to record the disinfections carried out and have a report always updated and easily downloadable.
Given the high standards of Focaccia Group, we imagine that the system has already obtained all the necessary certifications and approvals.
FG MICRO, Do you have anything to add about it?
The FG MICRO H2O2 system is accredited by laboratory tests and is already certified UNI EN ISO 17272.
The reference standard that certifies the disinfection of an automatic after-treatment environment.
To provide quality and safety assurance, as further verification, this certification will be reproduced specifically for ambulances.
Focaccia Group wants to stand out for its attention to procedures and the safety of people.
On what occasion will be officially presented this innovative system FG MICRO by Focaccia?
FG MICRO will be available after the summer, we will present it in preview to all operators at REAS in Montichiari.
For anyone who wants to know more can contact Focaccia Group at 0544 973669 or write to info@focaccia.net.
Read Also:
Emergency Live Even More…Live: Download The New Free App Of Your Newspaper For IOS And Android
Vapourised Hydrogen Peroxide: Why It Is So Important In Sanitary Disinfection Processes
Focaccia Group. A Story That Has Always Looked To The Future!
Sanitising Ambulances, A Study By Italian Researchers On The Use Of Ultraviolet Rays
Focaccia Group Enters The World Of Ambulances And Proposes An Innovative Sanitisation Solution
Scotland, University Of Edinburgh Researchers Develop Microwave Ambulance Sterilisation Process
Ambulance Disinfection Using A Compact Atmospheric Plasma Device: A Study From Germany
How To Decontaminate And Clean The Ambulance Properly?
Automotive Dealer Day 2022: A Future That Also Concerns Emergencies
Cold Plasma To Sanitize Common Facilities? The University Of Bologna Announced This New Creation To Reduce COVID-19 Infections
Preoperative Phase: What You Should Know Before Surgery
Sterilization With Hydrogen Peroxide: What It Consists Of And What Advantages It Brings
Integrated Operating Rooms: What An Integrated Operating Room Is And What Advantages It Offers
Source: