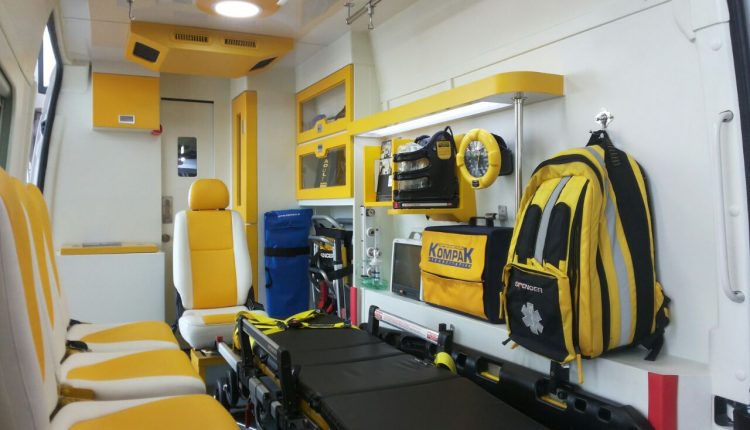 Sanitising ambulances, a study by Italian researchers on the use of ultraviolet rays
Ambulance sanitisation remains a major public health and emergency health worker issue, even now that the COVID-19 pandemic
Ultraviolet sanitisation system for sterilising ambulance fleets and monitoring their sterilisation level in real time
In this study, a group of Italian researchers from the Istituto Superiore della Sanità (ISS) examines a rather fashionable sanitisation method and assesses its effects on ambulances and the health of their operators.
THE NUMBER ONE IN AMBULANCE FITTING IN ITALY: VISIT THE ORION BOOTH AT EMERGENCY EXPO
"Contamination of ambulances,' it says, 'with pathogens represents a potential public health threat, not only for common pathogens but also for severe acute respiratory syndrome coronavirus 2 (SARS-CoV-2).
The aim of this project was to exploits the germicidal effect of the UVC radiation at 254 nm to sanitize the patient's compartment of ambulances with an advanced UltraViolet SANitizing System (UV-SAN) and assess its relevance for avoiding the spread of COVID-19 and other drug resistant pathogens.
The system is equipped with UVC lamps that are activated when the ambulance compartment is empty and sanitize the environment in less than 15 min.
An Ozone sensor continuously monitors the gas concentration, ensuring it does not exceed threshold value harmful for patients and operators' health.
DO YOU WANT TO KNOW MORE ABOUT THE AMBULANCE FITTING SECTOR? VISIT THE MARIANI FRATELLI STAND AT EMERGENCY EXPO
The system is relying on GNSS data and a satellite communication link, which allow to monitor and record traceability (when, where and what) of all the sanitation operations performed.
This information is real-time monitored from a dedicated web-application.
UVC irradiation efficiently reduced SARS-CoV-2 virus titer (>99.99%), on inanimate surfaces such as plastic, stainless steel or rubber, with doses ranging from 5.5 to 24.8 mJ/cm2 and the UV-SAN system is effective against multi drug resistant (MDR) bacteria up to >99.99%, after 10 to 30 min of irradiation.
Conclusions: UV-SAN can provide rapid, efficient and sustainable sanitization procedures of ambulances".

Sanitising ambulances, read the full study by Italian researchers:
sterilizzazione ambulanza ijerph-19-00331

Read Also:
Emergency Live Even More…Live: Download The New Free App Of Your Newspaper For IOS And Android
Ambulance Disinfection Using A Compact Atmospheric Plasma Device: A Study From Germany
How To Decontaminate And Clean The Ambulance Properly?
Ambulance Stretcher Vibration: A Study On The Dampening Systems
Patient Handover Between Ambulance Crew And Health Workers: A Qualitative Study From Iceland
FDA Warns On Methanol Contamination Using Hand Sanitizers And Expands The List Of Poisonous Products
Microbial Contamination On Ambulance Surfaces: Published Data And Studies
Why Air Ambulance Transports Of Injuried Patients Register Delay In Interfacility Deliveries? A Study Reveals The Causes
Emergency Centres Handover In South Africa – What Are Issues, Changings And Solutions?
Helicopters In Civil Protection – Norwegian Helicopter Induces A Rock Fall Beside A Fjord
Source: