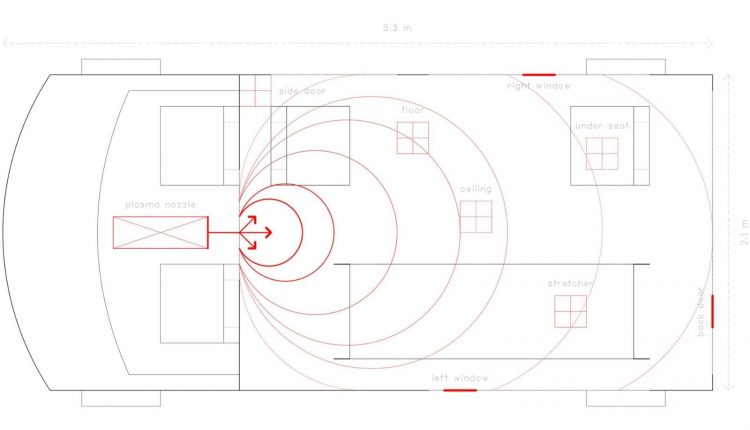 Ambulance disinfection using a compact atmospheric plasma device: a study from Germany
An interesting study on ambulance disinfection with atmospheric plasma technology comes from Germany, and offers food for thought and insight
First of all, what is meant by atmospheric plasma?
THE NUMBER ONE IN AMBULANCE FITTING IN ITALY: VISIT THE ORION BOOTH AT EMERGENCY EXPO
If a matter continuously receives energy, its temperature increases and its state changes from solid to liquid to gaseous.
If the supply of energy continues, the existing atomic shell splits, giving rise to charged particles (negatively charged electrons and positively charged ions).
This mixture is called plasma or 'fourth state of aggregation'.
In nature, plasma is present in lightning, polar lights, flames and the sun.
Known examples of artificially generated plasma are neon tubes, the effect produced by welding and flash lights.
In atmospheric plasma technology, gas is excited with high voltage under atmospheric pressure to generate a plasma.
The plasma is ejected from the nozzle by compressed air .
Disinfection of an ambulance using a compact atmospheric plasma device
DO YOU WANT TO KNOW MORE ABOUT THE AMBULANCE FITTING SECTOR? VISIT THE MARIANI FRATELLI STAND AT EMERGENCY EXPO
The worldwide spread of the coronavirus SARS-CoV-2 has highlighted the need for fast and simple disinfection processes, amongst others for ambulance cars on site.
To overcome current drawbacks regarding room disinfection, the use of cold atmospheric plasma in remote operation represents a promising alternative for the disinfection of larger volumes.
In this study, a compact plasma system was evaluated regarding its disinfection efficiency inside an ambulance car.
Methods and Results
The developed plasma device is based on a dielectric barrier discharge (DBD) and operates with ambient air as process gas.

The humidified afterglow from the plasma nozzle was introduced into an ambulance car with a volume of approximately 10 m3 while Bacillus atrophaeus endospores, Staphylococcus aureus or Phi 6 bacteriophages dried on different surfaces (PET-films, glass slides or aluminum foil) were exposed to the reactive gas inside the ambulance vehicle at eight different positions.
Reductions of spores by more than 4 orders of magnitude were found on all surfaces and positions within 2 h.
Due to their higher susceptibility, Phi 6 bacteriophages and S. aureus counts were reduced by at least 4 orders of magnitude within 30 min on all surfaces.
The results show that different microorganisms dried on variable surfaces can be inactivated by several orders of magnitude inside an ambulance by plasma gas from of a compact DBD plasma nozzle.
Plasma gas generated on site by a DBD plasma nozzle proved to be highly efficient for the disinfection of the interior of an ambulance car
Compact plasma systems could be a viable alternative for the disinfection of vehicles or rooms.
J of Applied Microbiology - 2022 - Kramer - Disinfection of an ambulance using a compact atmospheric plasma device

Read Also:
Emergency Live Even More…Live: Download The New Free App Of Your Newspaper For IOS And Android
How To Decontaminate And Clean The Ambulance Properly?
Ambulance Stretcher Vibration: A Study On The Dampening Systems
Patient Handover Between Ambulance Crew And Health Workers: A Qualitative Study From Iceland
FDA Warns On Methanol Contamination Using Hand Sanitizers And Expands The List Of Poisonous Products
Microbial Contamination On Ambulance Surfaces: Published Data And Studies
Why Air Ambulance Transports Of Injuried Patients Register Delay In Interfacility Deliveries? A Study Reveals The Causes
Emergency Centres Handover In South Africa – What Are Issues, Changings And Solutions?
Helicopters In Civil Protection – Norwegian Helicopter Induces A Rock Fall Beside A Fjord
Source: