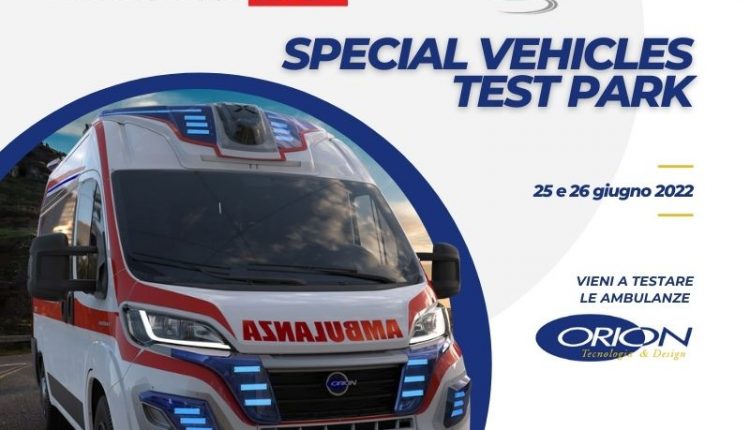 Formula Guida sicura presents the Special Vehicles Test Park dedicated to Orion vehicles
The Special Vehicle Test Park, the event dedicated to ORION emergency vehicles, organised by Formula Guida Sicura and Emergency Live, will take place on 25 and 26 at the Grosseto Exhibition Centre
THE NUMBER ONE IN AMBULANCE FITTING IN ITALY: VISIT THE ORION BOOTH AT EMERGENCY EXPO
Coming up next 25 and 26 June is the Special Vehicles Test Park, the event created on the initiative of Formula Guida Sicura and our magazine Emergency Live, which will have ORION ambulances as protagonists
At the Grosseto Fiere Centre, twenty specialised rescue drivers will test, for the first time, the emergency vehicles made available by the manufacturer.
One of the most important realities in the world of rescue driver training, Formula Guida Sicura, whose headquarters are in Grosseto, has launched, together with Emergency Live, the challenge in focus emergency vehicles.
And the well-known manufacturer ORION, as well as a friend of Emergency Live, was the first to welcome it.
Founded in 1997 with the aim of building ambulances, auto-medics and emergency vehicles of the highest level, ORION, whose headquarters are in Calenzano (in the province of Florence), will make its vehicles available to drivers.
The only national company, in this sector, to have ISO 9001, ISO 14001 and SA8000 certificates, ORION specialises in the outfitting of special vehicles for rescue and socio-medical transport.
A total of twenty participants, ten of whom selected by the Formula Guida Sicura and Emergency Live teams and ten directly by ORION, will drive the ambulances proposed by the latter and test them.
In addition, among the first ten participants, Emergency Live has reserved five places for its readers.
DO YOU WANT TO TEST YOUR KNOWLEDGE AS A RESCUE DRIVER? ENTER THE FORMULA GUIDA SICURA BOOTH AT EMERGENCY EXPO
The evaluations of the rescue drivers will highlight critical points and dispense tips and suggestions to improve the comfort of the ambulance during rescue operations.
Of course, where appropriate, praise and compliments on the quality of the tested vehicle will also be included.
To participate in the event, it is necessary to register at the following link: https://www.formulaguidasicura.it/iscrizione-spettatori-evento-orion/

Those who had applied to take part and were not summoned need not worry: they will be contacted on future days.
A unique event in which drivers will have the opportunity to drive different vehicles and put themselves to the test: next days are coming soon.
DO YOU WANT TO LEARN MORE ABOUT THE ROLE OF THE AMBULANCE DRIVER? VISIT THE C.O.E.S. INFORMATION BOOTH AT EMERGENCY EXPO
Read Also:
Emergency Live Even More…Live: Download The New Free App Of Your Newspaper For IOS And Android
Ambulances, Vehicles For The Transport Of The Disabled And For Civil Protection, Pure Health: The Orion's Stand At Emergency Expo
Rescue Driver Training: Emergency Expo Welcomes Formula Guida Sicura
Children Safety On Ambulance – Emotion And Rules, What Is The Line To Keep In Pediatric Transport?
First Two Days Of The Special Vehicles Test Park 25/26 June: Focus On Orion Vehicles
Anpas Marche Marries The Formula Guida Sicura Project: Training Courses For Rescue Drivers
Source: