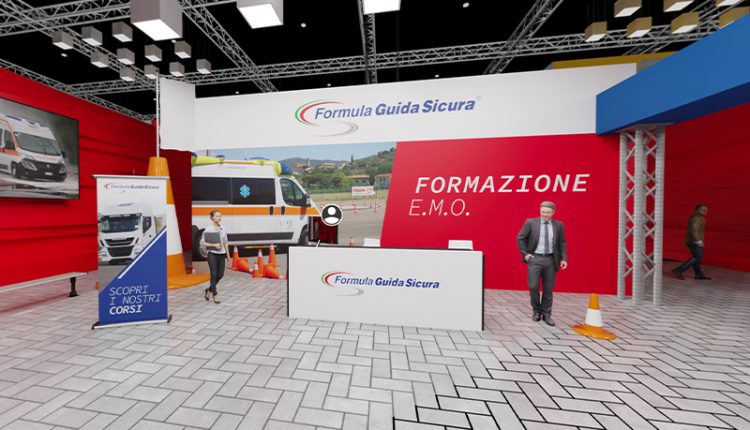 Rescue driver training: Emergency Expo welcomes Formula Guida Sicura
The centre specialising in the training of emergency drivers has chosen the Roberts exhibition with a surprise: a new partnership with Emergency Live
Formula Guida Sicura at Emergency Expo: the "Special Vehicles Park Test" is born
Formula Guida Sicura has long been recognised throughout Italy as one of the most important companies in the world of training for emergency drivers.
With its head office in Grosseto, and the "Strasicura Park" in Montecchio, in the province of Arezzo, as its most used circuit, the company actually takes its courses all over Italy, instructing, thanks to a high number of trained and certified teachers, rescue drivers according to purely practical or theoretical and practical paths together.
However, to discover the whole Formula Guida Sicura offer, which concerns the world of Emergency and not only, it is enough, from today, to enter Emergency Expo and study all the interactive contents of the stand in 3D.
This entrance, in addition, brings with it a wonderful novelty. Emergency Live and Formula Guida Sicura, in fact, have formed a partnership to create the new "Special Vehicles Test Park".
What will it be?
A park where it won't be the drivers who are put to the test, but the ambulances, through an evaluation system produced by our newspaper and the Grosseto team together.
It will therefore be the drivers who judge the quality of the vehicles on the market, their characteristics and, why not, who can give valuable suggestions to manufacturers to improve the driver/ambulance symbiosis, so important in the development of a rescue operation.
WOULD YOU LIKE TO TEST YOUR KNOWLEDGE AS A RESCUE DRIVER? THEN VISIT THE FORMULA GUIDA SICURA BOOTH AT EMERGENCY EXPO.
Curious to know which is the first brand to have accepted the challenge of Formula Guida Sicura?
A very friendly name of Emergency Live, Orion.
The Tuscan manufacturer immediately accepted the idea of putting its vehicles through their paces in a two-day test session on 25 and 26 June.
How? This Emergency Live will reveal it to you later, because there will also be a surprise for those taking part.
Stay tuned, then, and we'll explain everything, from how the tests will take place to how to be present on that weekend with your association.
In the meantime, discover Formula Guida Sicura and its beautiful stand at Emergency Expo, which Roberts is really proud to host.

DO YOU WANT TO KNOW MORE ABOUT THE ROLE OF THE AMBULANCE DRIVER? VISIT THE C.O.E.S. INFORMATION BOOTH AT EMERGENCY EXPO
Read Also:
Emergency Live Even More…Live: Download The New Free App Of Your Newspaper For IOS And Android
How To Decontaminate And Clean The Ambulance Properly?
Microbial Contamination On Ambulance Surfaces: Published Data And Studies
Tourniquet: Stop Bleeding After A Gunshot Wound
Interview With AURIEX – Tactical Medical Evacuation, Training And Mass Bleeding Control
Tourniquet Or No Tourniquet? Two Expert Orthopaedics Speak On The Total Knee Replacement
Tactical Field Care: How Should Paramedics Be Protected To Face A War Field?
Tourniquet And Intraosseous Access: Massive Bleeding Management
Bleeding In Trauma Patients: Tranexamic Acid (TXA) Has Minimal Effect In Stopping Bleeding
10 Steps To Perform A Correct Spinal Immobilization Of A Trauma Patient
Children Safety On Ambulance – Emotion And Rules, What Is The Line To Keep In Pediatric Transport?
Source: