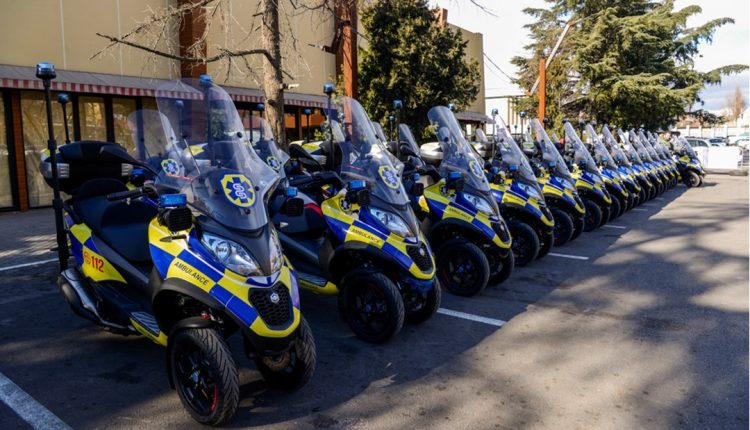 The Emergency Service in Georgia will use 41 Piaggio MP3s: the testing phase is beginning
41 Piaggio MP3 three-wheeled motorbikes will be used by the Georgia Emergency Service
The motorised medics are part of a World Bank project to support the Georgian emergency service: in 2021 the Georgian UNOPS office put out a tender to supply the Georgian Ministry of Health with 41 three-wheeled vehicles including emergency kits and full protection, clothing for 132 Paramedics.
INTRIGUED BY MP3? LEARN MORE BY VISITING THE PIAGGIO BOOTH AT EMERGENCY EXPO
Emergency Service in Georgia: on 10 October 2021 Pitstop Moto was awarded as the winner of the tender that the offer was Piaggio MP3 500 Sport Advanced
These vehicles will be in use from summer 2022 and will be monitored by the Ministry: if the test phase is successful, the fleet will be significantly increased.
Pitstop Academy will be involved in the technical and practical training of paramedics in order to support this project and make it successful.
The possible development of this project may lead to further requests from other government emergency departments such as the police, security and fire service.
This is quite a success for the Italian brand, a leader in the production of motorbikes: it is foreseeable and desirable that, once the trial phase has been successfully completed, there will also be an increase in demand on the usual market for Piaggio's three-wheeler, and at the same time for the two-wheeler.


Read Also:
Emergency Live Even More…Live: Download The New Free App Of Your Newspaper For IOS And Android
Motorcycle Ambulance Or Van-Based Ambulance – Why Piaggio Mp3?
COVID-19 In Israel, Emergency Rapid Response Is Made In Italy: The Experience With MP3 Motorcycle Ambulance
A Bit Of Italy In Israel: 500 Piaggio MP3s In The MDA Network
Thirty Years Of The Italian Emergency System, The Piaggio MP3 Life Support Of The Italian Red Cross Presented In Rome
Source: