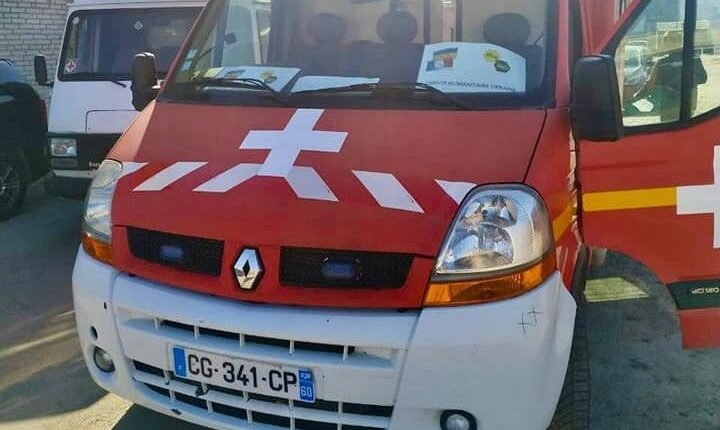 Conflict in Ukraine, French rescuers and volunteers provide an ambulance and humanitarian aid for Vinnytsia
Ukraine: an ambulance has been delivered to the Vinnytsia region by French volunteers and rescuers, who also sent medicines and other humanitarian aid
Donation to Vinnytsia (Ukraine) by La Ruche and Le Silo volunteers
La Ruche et Le Silo donated not only humanitarian aid (food and personal care products, medicines and blankets, first aid kits and powerful car inverters), but also a Renault ambulance and additional ambulance equipment).
The ambulance will be placed at the disposal of the Military Medical Clinic of the Central Region, and the humanitarian cargo will be distributed as needed. The French NGO plans to deliver two more ambulances.

Gift from France to Vinnytsia (Ukraine): VOA President Serhiy Borzov said on Facebook:
"We thank France for its support.
Demonstrations are taking place in Normandy in support of Ukraine and its opposition to Russian armed aggression.
And today the Paris Council voted unanimously for honorary citizenship of the city of Kiev – for the first time the award was given to the city, not to a person."

Read Also:
Emergency Live Even More…Live: Download The New Free App Of Your Newspaper For IOS And Android
Israel Delivers Armoured Ambulances To Ukraine: Video
Ukrainian Crisis: Kharkiv, Rescue Driver Saves Two People From The Rubble Of A House
Ukrainian Crisis: Falck Donates 30 Ambulances To Support In Ukraine, Moldova, And Poland
Odessa, Twin City Marseille Sends Two More Ambulances To Bombed-Out Ukraine
War In Ukraine, Ambulance Fitters On The Front Line: Validus Sends Emergency Vehicles To Kiev, Cherkasy And Dnieper
War In Ukraine: 15 More Ambulances Arrive In Bukovina From Italy
Source: