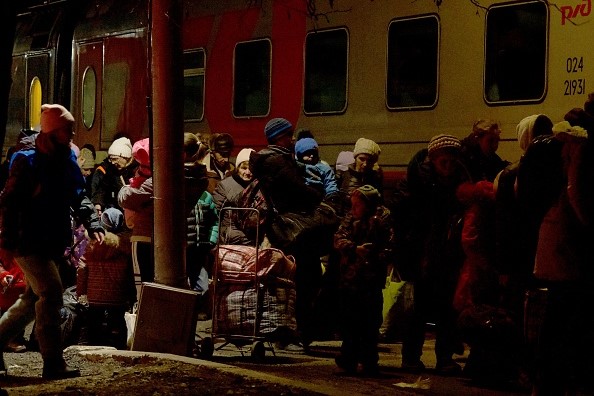 Estonia, Red Cross: 'donations from all over the country for Ukrainians affected by war'
Estonia, the Tallinn branch of the Estonian Red Cross grows mountains of bags of items for Ukrainians every day
"We have been contacted by the Ukrainian Red Cross, and in connection with this we have started a campaign to collect new things – bedding, blankets, sleeping bags and hygiene items.
This is the main thing we are doing at the moment," Arvi Perva, secretary-general of the Estonian Red Cross, told Aktualnaya Kamera.
The Red Cross is receiving the goods at Kadaka tee 54 in Tallinn, and Selver shops throughout Estonia
According to Perva, the items are being brought in from all over Estonia. "So actually our people care a lot, and we are very grateful for that," she added.
The Red Cross is also accepting donations of money. In just three days, Estonians have transferred almost 400,000 euros to the organisation's account.
In addition, the Ukrainian Cultural Centre, the Estonian Refugee Aid Foundation and Mondo, a non-profit organisation, are collecting donations through the ukrainaheaks.ee website.
"The money is needed to help the refugees. Right now, two of our Estonian buses are already at the Polish border, collecting the first refugees who arrive here.
In addition, the Ukrainian Cultural Centre supports the volunteers who are on the front line," said Bohdan Lyutyuk, director of the Ukrainian Cultural Centre.
"Most of the aid goes to Ukraine, where our partners help people caught up in the war.
And for a smaller part we organise buses to bring Ukrainians who have reached the Polish border," explained Anu Viltrop from the Estonian Refugee Aid Council.
The organisations help not only to bring the refugees to Poland, but also to find them temporary accommodation and to help them get used to their unfamiliar surroundings.

That is why the participation of volunteers is particularly important now.
"It is encouraging to see that people want to help, regardless of nationality.
We are waiting for people who speak Russian to help process information, answer people and translate various materials.
Feel free to contact anyone who is willing to help, we need it," Wiltrop added.
Read Also:
Emergency Live Even More…Live: Download The New Free App Of Your Newspaper For IOS And Android
Ukraine, Volunteers At The Border With Romania: "We Are Preparing For Refugees"
Ukraine, A Brochure On What To Do In Case Of Emergency Or War: Advice For Citizens
Ukraine, Red Cross Concerned About The Fate Of Civilians
Ukraine, Russian Bombardment Hits Hospital: Four Dead And Ten Wounded. Martial Law In Force
Poland, Free Medical And Legal Assistance For Ukrainian Refugees
Source: