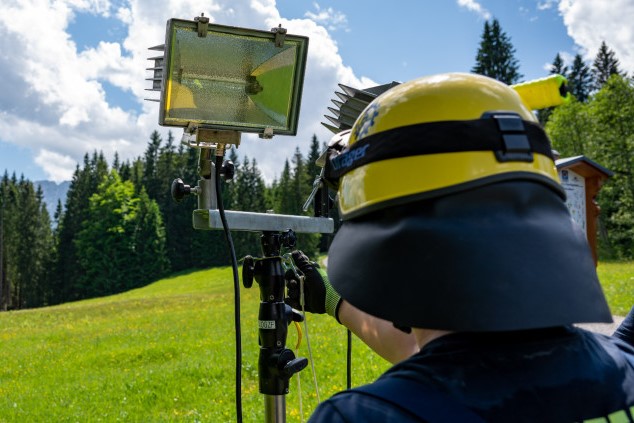 G7 Summit in Elmau, Germany: THW rescuers in the field with around 1,000 volunteers
Bonn/Garmisch-Partenkirchen. Around 1,000 members of the Federal Technical Relief Agency (THW) were deployed at the G7 summit in Schloss Elmau in Bavaria
Even after the summit was over, THW units remained on site to manage the dismantling of checkpoints and supply facilities.
THW President Gerd Friedsam thanked the assistants for their commitment:
"Our volunteers made a significant contribution to the smooth running of the G7 summit and still worked very well with the state and federal police authorities, the Federal Criminal Police Office, the rescue services and the fire brigade. It showed once again how well the individual positions are interconnected'.
In Garmisch-Partenkirchen, THW mainly provided technical and logistical support
With 80 mobile high-performance units, the emergency services operated more than 850 floodlights and spotlights, which ensured safety around the summit site.
In addition, they co-ordinated the deployment of several hundred THW volunteers, repaired paths and roads, managed tank logistics for other deployment organisations, and took care of the repair of emergency vehicles and equipment on site with the mobile workshop container.
Further tasks were the catering for other task forces, in addition, the THW supported the operations command of other organisations by providing mobile commands and situation trailers, as well as telecommunication centres.
Since the start of the construction phase on 16 May 2022, hundreds of helpers have worked at the same time every day.
THW volunteers also provided support with their technical and logistical skills at the G7 foreign ministers' meeting on Weißenhäuser Strand in Schleswig-Holstein in mid-May.
President Friedsam praised the proven cooperation with partner organisations in civil protection:
"Thanks to great professionalism and commitment and the combination of our different competences, this large-scale operation was successfully mastered."

The THW is the federal government's volunteer organisation
The commitment of the more than 80,000 volunteers throughout the country, half of them first aid workers, is the basis of the THW's work in civil defence.
With its diverse expertise and experience, the THW is a sought-after supporter of fire brigades, police, aid organisations and others. The THW is also deployed worldwide on behalf of the federal government.
This includes, among others, technical and logistical assistance within the framework of the European Union's civil protection procedure and on behalf of UN organisations.
Read Also:
Emergency Live Even More…Live: Download The New Free App Of Your Newspaper For IOS And Android
Ukraine, Chernihiv Rescuers Receive Vehicles And Equipment From European Donors
Ukraine, Rivne Receives Ambulance, Van And Medical Equipment From France And Germany
Ukraine, An Ambulance From Germany To The Maternity Hospital In Rivne: The Gift Of German Paul Klaus
Ukraine, Vinnytsia Received Two More Ambulances From Dortmund, Germany
Germany, 450 Malteser Volunteer Helpers Support German Catholic Day
Source: