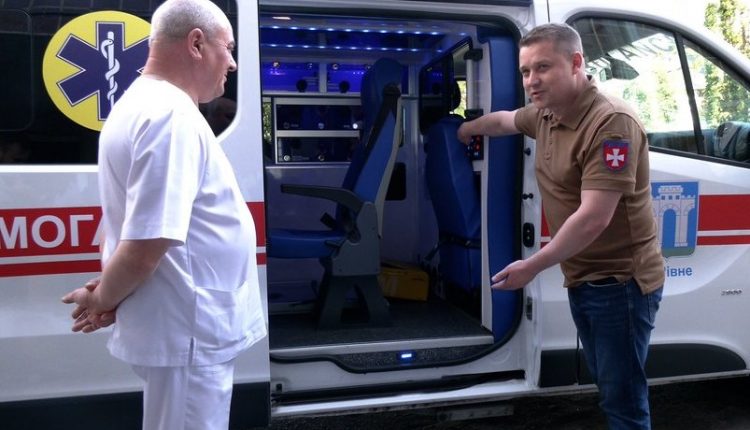 Ukraine, an ambulance from Germany to the maternity hospital in Rivne: the gift of German Paul Klaus
From Germany an act of solidarity for the Ukrainian people: German philanthropist Paul Klaus has donated an ambulance to the maternity hospital in Rivne
The maternity hospital in Rivne has received an ambulance from Germany, from philanthropist Paul Klaus
The Opel Vivaro ambulance will take patients to other facilities for consultations and medical procedures.
From now on, this ambulance will transport patients from the city's maternity hospital to adjacent facilities, such as the capital.
Sometimes patients need additional medical procedures, which the hospital cannot fulfil.
Previously, the institution called on the ambulances of the regional emergency services, now it will be able to organise trips on its own.

Anatoliy Polyukhovych has been a rescue driver at the maternity hospital for fifteen years, and is pleased with the ambulance donated by Germany
German philanthropist Paul Klaus has also donated armoured vehicles to the front.
The mayor of Rivne considers the emergency vehicle fleet of the city's medical institutions to be obsolete, so he asked for help.
This car will allow pregnant women to be comfortably transported without any expense from the budget.
"Half a million is in stock and a fully equipped car is at least a million. You see, almost a million is worth it here, given to our friends who are worried about Ukraine,' Oleksandr Tretyak added.
After the invasion of the Russian army, a significant proportion of the pregnant women in Rivne left the country, explained the institute's head physician Svetlana Muravskaya.
Despite the arrival of the refugees, the number of births has decreased compared to last year.
"Last year we had more than 800 women in four months. Today we have more than 700 women in the same time frame," said Svitlana Muravska.

The maternity hospital's old ambulance is being handed over to one of the military units.

Read Also:
Emergency Live Even More…Live: Download The New Free App Of Your Newspaper For IOS And Android
Ukraine, Chernihiv Rescuers Receive Vehicles And Equipment From European Donors
War In Ukraine, Ambulance Fitters On The Front Line: Validus Sends Emergency Vehicles To Kiev, Cherkasy And Dnieper
Ukraine, Rivne Receives Ambulance, Van And Medical Equipment From France And Germany
War In Ukraine, Since 24 February The Red Cross Has Already Trained More Than 45,600 People In First Aid
Ukraine, WHO Delivers 20 Ambulances That Can Operate Even In The Most Inaccessible Areas
War In Ukraine: The Netherlands Handed Over Seven Fire Trucks To Ukrainian Rescuers
Ukraine Emergency: 13 Fire Trucks And Ambulances From France
Ukraine, Health Ministry Disseminates Information On How To Provide First Aid In Case Of Phosphorus Burns
Ambulances In The Crosshairs: Being Rescuers In Nikolaev During The Russian Invasion / VIDEO
Source: