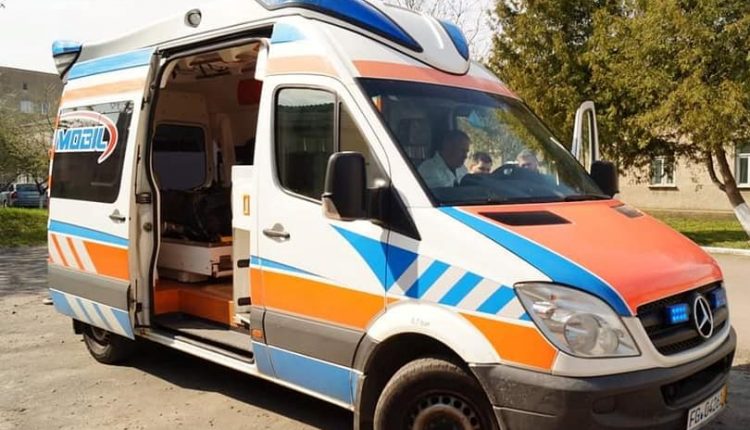 Ukraine, Rivne receives ambulance, van and medical equipment from France and Germany
Ukraine, solidarity from France and Germany: European benefactors deliver medical vehicles for hospitals in Rivne region
One car was received by Rivne hospital and another one by Radyvyliv hospital
The first deputy head of the Rivne regional administration, Serhiy Podolin, said that the region is taking care of the "logistics" of the received gifts.
All the necessary permits and documents are prepared.

The ambulance "Renault Truck" was received today by the KNP of Rivne "Medical Clinic 2"
The vehicle "model year 2017" was donated by French benefactors from the city of Lyon.
It is equipped with a patient monitor, a cardiograph, a defibrillator and mobile transport bags.
In addition to this, humanitarian aid from French sponsors includes a portable ultrasound machine, defibrillators, pulse oximeters, portable cardiographs, surgical instruments, etc.
"This will improve the organisation of medical care and the efficiency of the response.
A modern medical vehicle will make it possible to save health and reduce the patient's stay in the hospital bed, to approve the terms of rehabilitation", – notes the Director of the Department of Civil Protection and Health of the State Administration of Rivne Region Oleg Vivsyannyk.

The town community of Radyvyliv has received a minibus from a volunteer friend from Germany
It is equipped with the necessary equipment for emergency resuscitation, including a defibrillator.
To purchase the ambulance, volunteer friends Oksana and Christian Naitske started a charity mission, fundraising and organised sponsors from Germany to support and assist Ukraine. Oksana Naitske is a former resident of the Rivne region and the friendly couple's volunteer work is focused on our region.

Thanks to their efforts, two reanimobiles have already been received by regional medical institutions.
Two more are in the process of being delivered.
Fedir Stetsyuk, general director of the Radyvyliv municipal central infirmary, said that the vehicle will be used to provide urgent assistance to Radyvyliv residents and transport patients to oblast medical institutions.
Read Also:
Emergency Live Even More…Live: Download The New Free App Of Your Newspaper For IOS And Android
War In Ukraine, The World Of Emergency In Support Of Healers: MSD Launches Ukrainian Language Site
Invasion Of Ukraine: Four More Ambulances Have Arrived In The Lviv Region From Great Britain
Venari Group Commences Building Ambulances For Ukraine
Ukraine Receives Second Batch Of Equipment For Firefighters And Rescuers From France
War In Ukraine: Armoured Ambulances From Venari Group Arrive In Lviv
Ukraine Emergency: Vinnytsia Children's Hospital Receives Ambulance And Medicines From Its Polish Colleagues
Ukraine, Red Cross Humanitarian Convoy Returns From Lviv With 73 People, Including 13 Unaccompanied Minors
Invasion Of Ukraine, From Today The Italian Red Cross Humanitarian Aid Hub In Romania Is Operative
War In Ukraine, Ambulance Fitters On The Front Line: Validus Sends Emergency Vehicles To Kiev, Cherkasy And Dnieper
Source:
Government of Ukraine