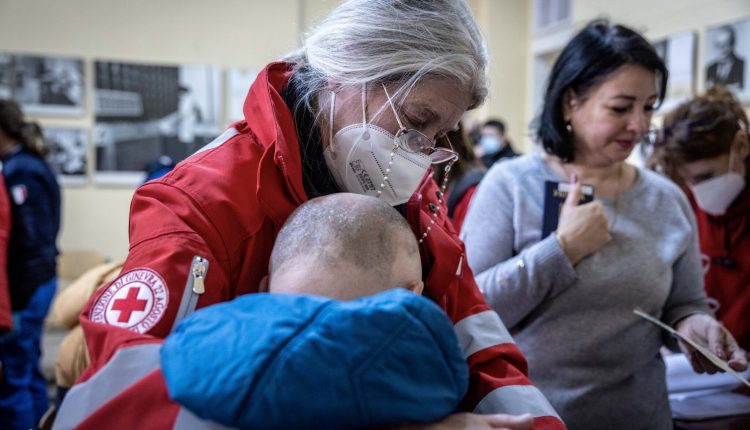 Ukraine emergency: second mission of the Italian Red Cross to evacuate vulnerable people from Lviv / VIDEO
The Italian Red Cross is back in Lviv, Ukraine, for the second mission to evacuate civilians with a convoy of 18 vehicles and a team of 51 CRI operator

The aim of the mission is to bring to Italy a group of 84 vulnerable people who, thanks to the cooperation with the Civil Protection Department, have found hospitality and care in various specialised facilities in our country
They are people with serious mental disabilities who had already been evacuated two weeks earlier from a care centre in Bakhmut, in the Donetsk region, one of the areas worst hit by the bombings.
They arrived in Lviv after a long, difficult and uncertain journey
Their only hope was to "stop hearing the noises of war that make people afraid and turn their heads".
"I've done a lot of missions, but I think this is one of the most important in my life," says Ignazio Schintu, Director of Operations, Emergencies and Relief for the Italian Red Cross, on his return from the mission.
And those who accompanied and assisted them on their travels in Ukraine add: "They are scared, disoriented.
They need someone to take care of them, far from here, and we know that we are leaving them in good hands".
They arrived in Italy with the support of the Italian Red Cross, on Thursday 7 April, after a first stop at the CRI Fenoglio Centre in Settimo Torinese, they found shelter in facilities located in Piedmont, Trento and Puglia.

Watch the CRI video about the mission to Lviv:
Read Also:
Emergency Live Even More…Live: Download The New Free App Of Your Newspaper For IOS And Android
Saving Lives Despite The War: How The Ambulance System Works In Kiev (VIDEO)
War In Ukraine, Humanitarian Aid From Italy, Spain And Germany Arrived In Zaporizhia
Ukraine Emergency, The Italian Red Cross Returns To Lviv
Ukraine Emergency: 100 Ukrainian Patients Received In Italy, Patient Transfers Managed By CROSS Through MedEvac
From Lithuania To Rivne: An Ambulance And Medical Supplies For Bombed-Out Ukraine
Source: