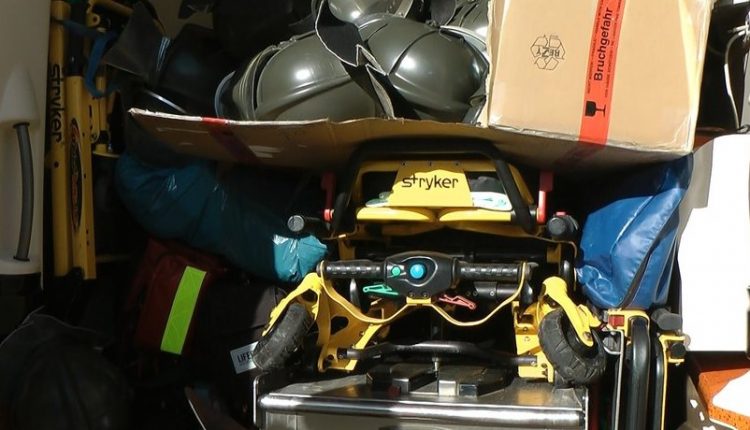 War in Ukraine, humanitarian aid from Italy, Spain and Germany arrived in Zaporizhia
On 28 March Zaporizhia received another consignment of humanitarian aid from Italy, Spain and Germany. In particular, residents of the regional centre and temporarily occupied territories will receive the necessary medicines and food and a modernly equipped ambulance will be delivered to the military hospital

Volunteer from Zaporizhzhya Rudolf Hakobyan has spoken publicly about this
He says that in the first expedition a fortnight ago there was much needed medical equipment for a military hospital: a "C-arc" X-ray machine.
"Currently, many operations are performed using this device in the hospital.
By the way, in the Zaporozhye region there was no such device at all.
So, the first shipment was worth about one million seven hundred thousand euros.
Now the second one – two trucks from Germany and this quick help", said Hakobyan.
According to Svitlana Grabovenko, a representative of the German humanitarian fund Parnima, the ambulance was delivered free of charge to the military doctors in Zaporizhzhya by residents of the German district of Uckermark.
It is fully "padded".
It has everything our military doctors need on the front line.
There are special monitors for quality diagnostic treatment of patients.
Four backpacks with medical equipment.
In addition, the car is fully loaded with drugs and medical supplies, which we will then distribute to the residents of Zaporizhia after we have processed everything". says Svitlana Grabovenko.
A truck with more than 20 tons of humanitarian aid from Spain is unloaded at the warehouses.
Medical supplies, surgical supplies and baby food were collected by volunteers in the USA and then transferred to Europe and from there to Ukraine, said Oleksandr Herasimenko, representative of the Chalice of Mercy Charitable Foundation.
Everyone understands that we have such pain and everyone understands that all this is done for the victory, for the defenders.
These are necessary things that people should receive as soon as possible," he said.

Also today Zaporizhia received humanitarian aid from Italy
Rudolf Hakobyan says that the consignment delivered to the Armenian Church is special.
It consists of hard-to-find medicines, which have not been available in the pharmacies of the city and the region since the first days of the war:

"This is medicine for patients who do not have a thyroid gland.
Or for those who have a dysfunction of this gland.
That is, a person without a thyroid gland should take one tablet of medication from the thyroxine group a day.
If he doesn't, then within a month serious health problems begin: kidney failure, liver failure, heart failure.
And in two months he can fall into a coma and even die . "
The vice-president of the public organisation "Union of Armenians of the Zaporizhia region" says: medicines will be distributed free of charge to patients
"We will transfer part of this load to the occupied territories: Melitopol, Orikhiv, Tokmak, Berdyansk, Mala Bilozerka.
Everywhere the territory is closed and nothing arrives.
It will be very welcome, because they have been without these medicines for a month, a part of it we will transfer to the city polyclinics, especially endocrinologists, and a part we will distribute through our volunteers", says Rudolf Hakobyan.
According to Rudolf Hakobyan, together with partners from volunteer centres and charitable foundations, on average, a truckload of humanitarian aid is processed every day.
Read Also:
Emergency Live Even More…Live: Download The New Free App Of Your Newspaper For IOS And Android
Israel Delivers Armoured Ambulances To Ukraine: Video
Ukrainian Crisis: Falck Donates 30 Ambulances To Support In Ukraine, Moldova, And Poland
War In Ukraine, Ambulance Fitters On The Front Line: Validus Sends Emergency Vehicles To Kiev, Cherkasy And Dnieper
War In Ukraine: 15 More Ambulances Arrive In Bukovina From Italy
Conflict In Ukraine, French Rescuers And Volunteers Provide An Ambulance And Humanitarian Aid For Vinnytsia
Ukraine: Pope Francis' Ambulance For Lviv To Be Delivered By Cardinal Krajewski
War In Ukraine: Ternopil Receives Four Ambulances From UK's Ukrainian Dispatch
Saving Lives Despite The War: How The Ambulance System Works In Kiev (VIDEO)
Source: