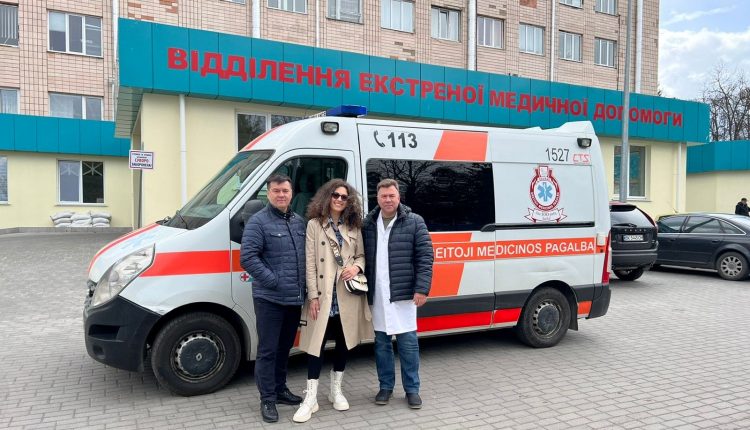 From Lithuania to Rivne: an ambulance and medical supplies for bombed-out Ukraine
From Lithuania to Ukraine: an ambulance, medical equipment, emergency kits and other items were received by the Rivne region from Lithuanian benefactors
"On the initiative of Rivne businesswoman Olga Yatsuk, the vans were delivered to our region. Thanks to our Rivne residents, we have the full support of the Embassy of Ukraine in Lithuania"
"In particular, an ambulance was delivered to our region from the Kaunas Medical Aid Station.
The ambulance is fully equipped with all the necessary equipment", said Serhiy Podolin, First Deputy Head of the Rivne Regional Military Administration.
He also added that the donors have collected and delivered to the oblast's medical centres complete medical kits and medicines for both home medical aid and treatment in hospital conditions.
Some of them are being sent to regions that have suffered from the fighting.
Aid from Lions Clubs of Lithuania to Ukraine:
Overall, the Lions Clubs International association organisation from Lithuania sent a humanitarian aid package of about 1 tonne of medicines to the Rivne region.

Volunteers of the Lithuanian organisation Blue/Yellow for Ukraine collected blood and scrap vests, which have already been delivered to the ZSU.
Sergey Podolin thanked the Lithuanian volunteers of LIONS asociacija – Lithuania D-131 for their assistance and said that every tank is important to us.
Read Also:
Emergency Live Even More…Live: Download The New Free App Of Your Newspaper For IOS And Android
A Train Leaves Prato With Humanitarian Aid From The Italian Civil Protection For Ukraine
Ukraine Emergency: 100 Ukrainian Patients Received In Italy, Patient Transfers Managed By CROSS Through MedEvac
Ukraine: The First RescEU Medical Evacuation Plane Enters Into Service To Help Transfer Ukrainian Patients
Source: