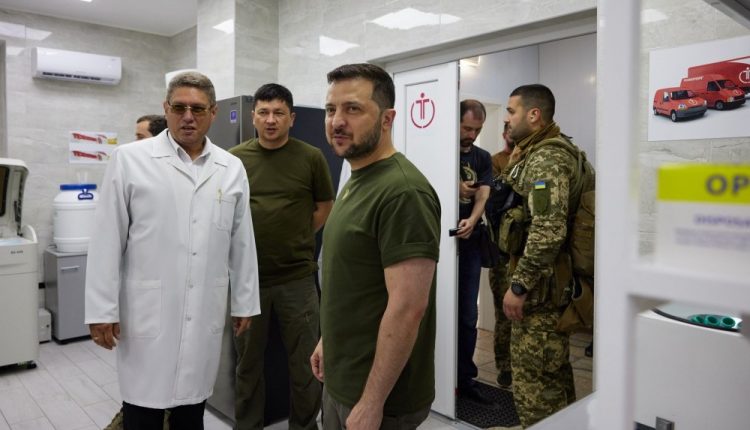 Ukraine, Head of state Volodymyr Zelenskyy visited ambulance hospital in Mykolaiv
During a working trip to the Mykolaiv region, President of Ukraine Volodymyr Zelenskyy visited the ambulance hospital of the city of Mykolaiv
The Head of State observed the medical laboratory, the computer diagnostics room and the surgery department.
The President also spoke with servicemen and civilians who are receiving medical treatment here after being wounded by enemy shelling.
Volodymyr Zelenskyy inquired about the patients' health and wished them a speedy recovery.
Ambulance hospital: the President presented state awards and awarded honorary titles to medical workers of the Mykolaiv region
"I want to thank you for your great work, for the fact that you treat patients as humanely as your relatives.
And for being heroic people. You save the lives of everyone – both military and civilians. I want to wish you and your family and friends good health!" said the Head of State.
Read Also:
Emergency Live Even More…Live: Download The New Free App Of Your Newspaper For IOS And Android
Ukraine, Chernihiv Rescuers Receive Vehicles And Equipment From European Donors

War In Ukraine, Ambulance Fitters On The Front Line: Validus Sends Emergency Vehicles To Kiev, Cherkasy And Dnieper
Ukraine, Rivne Receives Ambulance, Van And Medical Equipment From France And Germany
War In Ukraine, Since 24 February The Red Cross Has Already Trained More Than 45,600 People In First Aid
Ukraine, WHO Delivers 20 Ambulances That Can Operate Even In The Most Inaccessible Areas
Ukraine, Government Announcement: '60 Ambulances From The UK To Replace Those Destroyed By Russian Troops'
Ukraine, International Council Of Nurses (ICN) And Romanian Order Of Nurses Support Ukrainian Refugees
Ukraine, Emergency Doctors Will Receive GoodSAM, An App Developed In The UK
Ukraine, Austria Delivered Ten Ambulances Thanks To The Red Cross
Source: