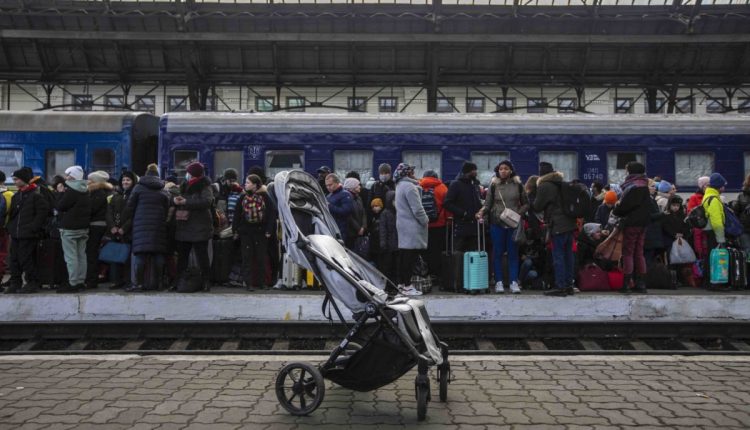 Ukraine, Soleterre: "Essential to activate train for intubated cancer children"
Soleterre on the children of Ukraine, the head of the Global Health Programme: "This war, in addition to the more visible damage, will bring great psychological harm"
Alessandra Radaelli, head of the Global Health Programme of the Soleterre Foundation, apologises when in the course of the interview the sound of what seems to be a simple alarm clock is heard in the background, but is actually an app on the mobile phone of a Ukrainian colleague of hers, who has recently arrived in Poland, warning of the bombing of Kiev in real time.
It makes an impression, but it is war.
Radaelli is currently working for Soleterre in Poland, on the border with Ukraine, to help Ukrainian children with cancer
She is staying in a house made available by a Polish family at a good price, because, she says, the solidarity she has received is fortunate.
For her and her colleagues, the past few days have been intense but fruitful, because they have succeeded in transferring to Italy small patients who have fled the war and need to start or continue treatment.
It's morning, she will soon have to deal with new refugees in transit, but she gladly agrees to an interview and is grateful for the opportunity to tell what is happening there.
– It is a banal question, but what is the situation at the moment?
"We are quite privileged because, for logistical reasons, we are close to the airport, where we send the children sent to us by our Ukrainian colleagues, who are then transferred to Italian hospitals, initially only in Lombardy but now throughout the country.
We see a lot of solidarity from everyone, even the house we are staying in was rented to us by a Polish family at a favourable price, because we told them what we do and they wanted to help us in their own way.
At the border, the sorting and reception centres have set up an aid system that is sometimes a bit chaotic but really very efficient.
A lot of people come here, they have a chance to rest after an exhausting journey, they are offered hot food and given a SIM card, and then they are helped to find transport to continue their journey.
At the moment, we are not active in these reception centres, but we have provided medicines and all the necessary services to refugees in transit".
– How many children has Soleterre managed to transfer so far, and to which countries?
"We have activated five flights and transferred about 25 children to Italy, where our colleagues, in collaboration with the Italian Association of Paediatric Haematology and Oncology, have identified the most suitable hospitals for admission.
Some children have yet to start treatment, because they had been diagnosed shortly before the conflict, others have to continue it, while still others have relapses and should already have started treatment in the last few days but were unable to do so.
A few days ago, for example, a mother came in with a child who has a tumour that has relapsed and we did our best to get him to start before the others because we felt it was urgent to restart treatment".
– Unfortunately, not all children can be transported. What can be done for those whose health conditions have left them in Ukraine?
"We are trying to find out, with the help of our Ukrainian colleagues working in Lviv and our Italian colleagues who are exploring all the opportunities for collaboration with the Civil Defence.
Just this morning, I received a message from our president, who mentioned the possibility of activating a train for intubated children.
It's not obvious to activate this kind of transport in a country with an active conflict, but it's really essential".
– How are the children that Soleterre has managed to transfer reacting to the war?
"The children who arrive we only see for a few hours because they are in transit, so it is difficult to understand how traumatised they are.
In any case, they are supported, especially when they arrive in Italy, by psychologists who speak Ukrainian and Russian and whom we have made available.

On the other hand, we had a little more time to interact with the mothers, who are experiencing great anxiety because many of them have had to entrust other children to grandparents or an aunt.
They are really under a lot of stress, also because they have often had to face a very difficult journey".
– How do you see the coming weeks? If the war ends, which we all hope it will, the emergency for these children will probably continue…
"Certainly, because the treatment capacity in some places will no longer be sufficient.
We have also activated the delivery of oncology drugs, so that children who cannot be evacuated immediately can still continue to be treated in the Lviv hospital, which is currently overloaded.
It will be necessary, ideally, to reinforce human resources and also to continue supporting drugs.
A lot of the equipment has probably been damaged, so there will be a lot of work to be done".
– The war in Ukraine is a drama for the entire population of the country, but especially for children. The most brutal event was the bombing of the paediatric hospital in Mariupol. What is the appeal he wants to make?
"This war, in addition to the more visible damage, will cause great psychological damage.
We are already working to find psychologists who speak Russian and Ukrainian and who are able to offer psychological support from a distance.
The appeal, therefore, is for our efforts to be supported both by donations and by the availability of experts who would like to participate in this activity.
The trauma of the war will manifest itself enormously in the coming weeks and years, and if something is not done in a timely manner there is a risk of ruining generations.
– One last question: you have been working in those countries for years, but did you expect war to break out?
"Absolutely not, Soleterre had a very interesting project with the Lviv hospital, we were setting up a bone marrow transplant unit at the city's paediatric hospital.
In November last year, 12 Ukrainian doctors came to Italy to train at the San Matteo hospital in Pavia, and we had absolutely no expectation of war, but rather that in a few weeks those same doctors would return to Italy again to continue their training, even starting to perform the first transplants.
It was a really hard blow, not at all something we expected.
And unfortunately this will stop a whole series of activities and initiatives that were very useful for the work that could have been done to strengthen the capacity for treatment in Ukraine.
Read Also:
Emergency Live Even More…Live: Download The New Free App Of Your Newspaper For IOS And Android
Russia Without Dignity Or Shame: Mariupol Children's Hospital Bombed. Dead And Wounded Doctors, Nurses And Young Patients
Childrens Of War: Kiev's Children Born In The Air Raid Shelter Of The Hospital Or The Metro
Ukraine, Soleterre: 'Children With Cancer Treated In Basements'
Source: