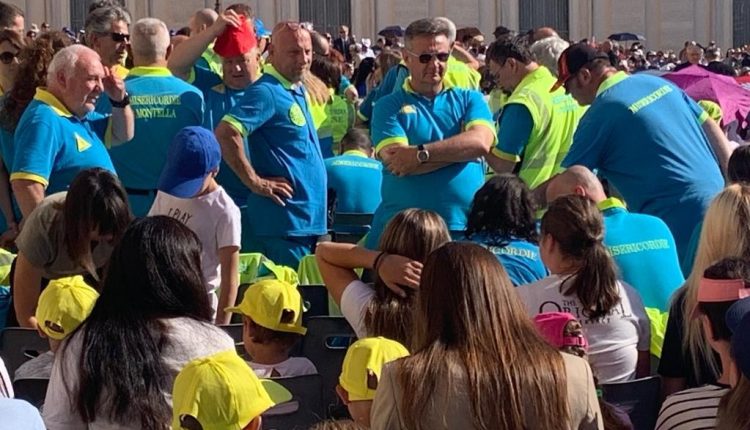 Ukrainian children welcomed by the Misericordie meet the Pope, present at Wednesday general audience
General Audience of Pope Francis: It was a special day for the 30 Ukrainian children and their carers taken in by the Misericordie last April in two Tuscan facilities, Fosciandora (Lucca) and Colle Val d'Elsa (Siena), who arrived in Italy on a "humanitarian" flight made possible by an agreement between ITA Airways, the National Confederation of the Misericordie of Italy, the Regional Federation of the Misericordie of Tuscany, I-Help and the Coordinamento Misericordie of the Florentine Area, in collaboration with the Fondazione Ridni
Ukrainian children were able to meet Pope Francis during the Wednesday general audience held in St Peter's Square
Wrapped in the yellow and blue flag of Ukraine, they were also able to give the Holy Father a drawing with the words 'Stop War'.
Their emotion was matched by that of 60 brothers and sisters of the Misericordie, from all parts of Italy, representing a total of over 130 who took turns on the activation of the national civil protection department, guaranteeing operations for two months at the border between Poland and Ukraine to provide support and organise the transport of the sick and frail, with an operational module designed by the Misericordie called Dis Evac.
Present with the Misericordie delegation this morning were the general director Gianluca Staderini and Elio Di Leo, presidential advisor and national delegate for the emergency area.
In addition to the drawings, the children and their helpers also carried a sign that read 'Save Ukraine, Save Humanity'.
"It was a day that the children looked forward to with great emotion, full of profound meaning, and a tangible sign of hope for the little Ukrainian children and their carers," says Misericordie director general Gianluca Staderini.
National delegate for emergencies Elio Di Leo, in bringing all the volunteers the warm greetings of President Domenico Giani, emphasised the great spirit of service to others once again put into the field, even under difficult conditions, by Brothers and Sisters of the Misericordie throughout Italy.
Read Also:

Emergency Live Even More…Live: Download The New Free App Of Your Newspaper For IOS And Android
Ukraine, International Council Of Nurses (ICN) And Romanian Order Of Nurses Support Ukrainian Refugees
Ukraine, WHO Delivers 20 Ambulances That Can Operate Even In The Most Inaccessible Areas
Ukraine, Government Announcement: '60 Ambulances From The UK To Replace Those Destroyed By Russian Troops'
Israel Delivers Armoured Ambulances To Ukraine: Video
Ukrainian Crisis: Kharkiv, Rescue Driver Saves Two People From The Rubble Of A House
Ukraine: Pope Francis' Ambulance For Lviv To Be Delivered By Cardinal Krajewski
Source: