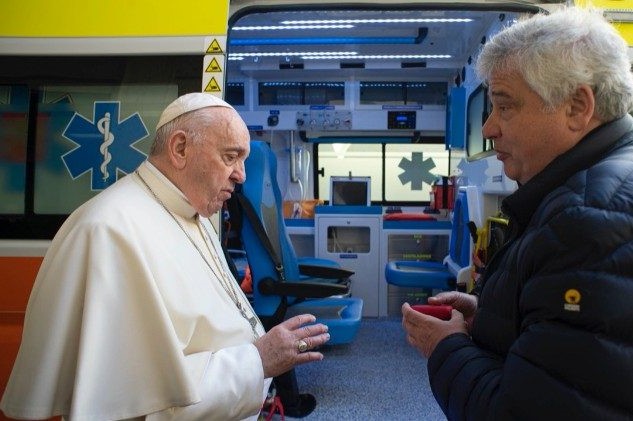 Ukraine: Pope Francis' ambulance for Lviv to be delivered by Cardinal Krajewski
War in Ukraine, the ambulance Pope Francis donated is a gift for the city of Lviv: it will be used to help the population
The ambulance donated by Pope Francis to Lviv (Ukraine)
According to the rector of the Apostolic Capital, Matteo Bruni, on Saturday, 26 March 2022, Cardinal Conrad Krajewski, papal almoner, will set sail again for Lviv to deliver mobile emergency aid which is a gift from Pope Francis, whom he personally blessed this weekend.
The vehicle will be a gift to the municipal authorities to help the population, whose numbers have increased significantly in recent years due to the arrival of refugees.
Cardinal Conrad Krajewski recently returned from Fatima, where on the instructions of Pope Francis he dedicated an act to the Immaculate Heart of Mary in Ukraine and Russia.
Before Our Lady of Fatima," he told Vatican journalists before embarking on the journey, "I asked her to protect Ukraine, which is experiencing a war, as well as to bless the new mission that I will carry out at the Pope's request on my return to this country.
The cardinal announced that he was embarking on his trip with "a heart full of hope", after praying with the 15,000 faithful who gathered at the Fatima Shrine to join Pope Francis.
The service was attended by 25 bishops and the president of Portugal.
"Everyone prayed together with me for the Pope," the Elemosinario Pontiff added: "Faith is able to put an end to war, I am going to Ukraine with all my heart to see the concrete results of Mary's act of incorporation."
Read Also:
Emergency Live Even More…Live: Download The New Free App Of Your Newspaper For IOS And Android

Israel Delivers Armoured Ambulances To Ukraine: Video
Ukrainian Crisis: Kharkiv, Rescue Driver Saves Two People From The Rubble Of A House
Ukrainian Crisis: Falck Donates 30 Ambulances To Support In Ukraine, Moldova, And Poland
Odessa, Twin City Marseille Sends Two More Ambulances To Bombed-Out Ukraine
War In Ukraine, Ambulance Fitters On The Front Line: Validus Sends Emergency Vehicles To Kiev, Cherkasy And Dnieper
War In Ukraine: 15 More Ambulances Arrive In Bukovina From Italy
Conflict In Ukraine, French Rescuers And Volunteers Provide An Ambulance And Humanitarian Aid For Vinnytsia
Bombs Over Mariupol, The Dramatic Testimony Of Sasha (MSF) / VIDEO
Ukraine: Food And Relief Items Reach Kharkiv As ICRC Scales Up Assistance
Source: