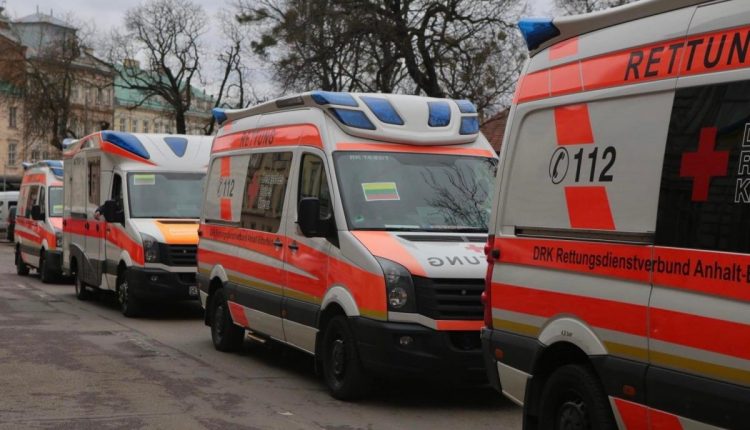 War in Ukraine, Lviv region received ambulances from Lithuanian Seimas
Today the Lviv region received ambulances from the Lithuanian Seimas. From now on, 4 ambulances will work to meet the needs of the health sector, reports Lviv OVA
Lviv, ambulances were handed over by representatives of the Seimas delegation from the Republic of Lithuania
The ambulances are equipped with first aid, resuscitation, and other medical equipment.
"We support Ukraine, our hearts beat together with you.
After all, you are defending the whole of Europe.
This war is also our war, this front is the front of the whole democratic world.
This is where the future of Europe is decided," said Paulus Saudargas, vice-president of the Seimas of the Republic of Lithuania.
Seimas ambulances in Lviv: this is only a small part of the assistance provided by Lithuania to Ukraine
For example, the Lithuanian Blue and Yellow Foundation has delivered about a hundred jeeps to Ukraine previously.
Lithuania will continue to help Ukraine and encourages other countries to do the same.
"I thank the Polish and Lithuanian people, because it is they who provide the support and help they need.
We often talk about governments, parliaments, presidents, but until we are supported by people in every country, it will be difficult to win.
Many thanks to the people from Lithuania and Poland.

The victory will certainly be ours, but every day it costs us more and more.
I wish other European countries would have the same attitude towards Ukraine as Poland and Lithuania.
After all, it is Ukraine that has defended democratic and European values, and it is we who defend them for the whole of Europe,' said Maksym Kozytskyi, head of the Lviv regional military administration.
Read Also:
Emergency Live Even More…Live: Download The New Free App Of Your Newspaper For IOS And Android
Saving Lives Despite The War: How The Ambulance System Works In Kiev (VIDEO)
War In Ukraine, Humanitarian Aid From Italy, Spain And Germany Arrived In Zaporizhia
Israel Delivers Armoured Ambulances To Ukraine: Video
Ukrainian Crisis: Falck Donates 30 Ambulances To Support In Ukraine, Moldova, And Poland
Ukraine: UN And Partners Deliver Aid To The Encircled City Of Sumy
Ukraine Emergency, The Italian Red Cross Returns To Lviv
Source: