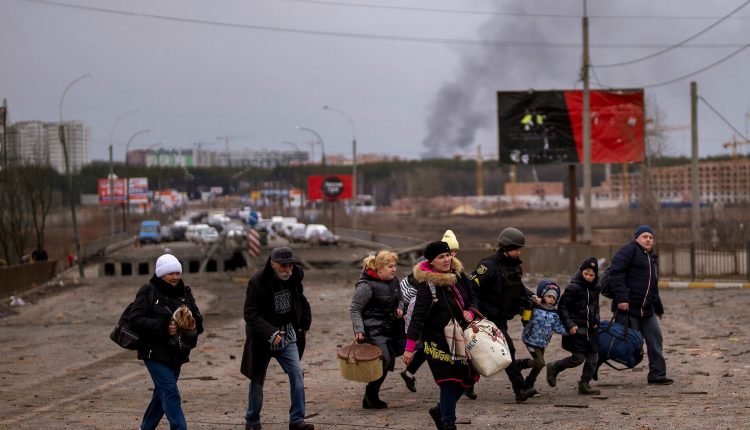 Ukraine: UN and partners deliver aid to the encircled city of Sumy
War in Ukraine, humanitarian aid in Sumy: the United Nations and humanitarian partners delivered supplies for thousands of people in the encircled city of Sumy, including children and hospital patients, where shelling and fighting have destroyed homes, hospitals and schools, cut off power and water, and prevented commercial deliveries of food and other goods
Aid to Sumy, the UN's role in the Ukraine conflict
This is the second time the UN and our humanitarian partners have managed to deliver much-needed assistance to people living in Sumy and nearby communities—following the first UN-led convoy which arrived in Sumy on 18 March—and the third successful inter-agency humanitarian convoy in the past two weeks.
During today's convoy, seven trucks delivered food, medicines and hygiene products provided by the NGO, People in Need (PiN), the UN Refugee Agency (UNHCR), the UN Children's Fund (UNICEF), the World Health Organization (WHO) and the World Food Programme (WFP).
The Ukrainian Red Cross Society and their partners will deliver these supplies to Sumy as well as hard-to-reach areas in the north-east, including Trostianets and Okhtyrka
The food rations from PiN and WFP will benefit nearly 6,000 people; blankets, kettles and other basic household items from UNHCR will support 1,500 people, while the sanitation kits help 6,000 people with hygiene and drinking water.
The WHO medical supplies and trauma kits will treat 150 patients requiring intensive care for serious injuries while the other medical supplies will support 10,000 people for three months.
The humanitarian notification system with Ukraine and the Russian Federation, facilitated by the Office for the Coordination of Humanitarian Affairs (OCHA), enabled safe passage for this convoy today.
Humanitarian aid in Sumy, watch the UN video:

Read Also:
Emergency Live Even More…Live: Download The New Free App Of Your Newspaper For IOS And Android
Saving Lives Despite The War: How The Ambulance System Works In Kiev (VIDEO)
War In Ukraine, Humanitarian Aid From Italy, Spain And Germany Arrived In Zaporizhia
Israel Delivers Armoured Ambulances To Ukraine: Video
Ukrainian Crisis: Falck Donates 30 Ambulances To Support In Ukraine, Moldova, And Poland
War In Ukraine, Ambulance Fitters On The Front Line: Validus Sends Emergency Vehicles To Kiev, Cherkasy And Dnieper
War In Ukraine: 15 More Ambulances Arrive In Bukovina From Italy
Ukraine Has Received 21 Ambulances From France: The Announcement By The Ministry Of Health In Kiev
Source: