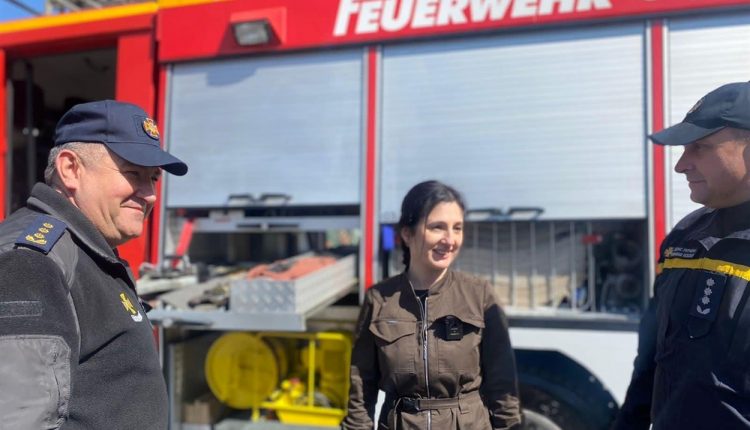 War in Ukraine, Zhmerynka rescuers receive fire brigade vehicle and equipment from Germany
Ukrainian crisis: rescuers in Zhmerynka have received a modern fire truck, communication equipment and overalls, as well as other essential equipment from Germany
The humanitarian aid was provided in cooperation with the State Emergency Service, the Vinnytsia regional military administration, international partners and volunteers.
Rescuers for displaced persons are also on duty in the Zhmerynka region
During the meeting, Ukrainian People's Deputy Iryna Borzova and the head of the main directorate of the State Emergency Service of Ukraine in Vinnytsia oblast, Ruslan Shevchuk, spoke with local rescuers and those from the Displaced Persons' Relief Service who continue to serve in Zhmerynka.
"I thank all the brave and courageous rescuers who are the first" in the line of fire ", both in time of peace and in time of war", – said Irina Borzova.
The special fire brigade's vehicle can be used for extinguishing fires, solving traffic accidents, rescuing people in various emergencies.
"We thank our colleagues from Germany for their strong support. Another unit of such necessary equipment has entered service in Zhmerynskyi district! ", said Ruslan Shevchuk.


Read Also:
Emergency Live Even More…Live: Download The New Free App Of Your Newspaper For IOS And Android
Magirus Renounces Interschutz 2022: 'Planned Investment Will Go To Ukraine's Fire Brigade' / VIDEO
Saving Lives Despite The War: How The Ambulance System Works In Kiev (VIDEO)
War In Ukraine, Humanitarian Aid From Italy, Spain And Germany Arrived In Zaporizhia
Ukraine: The Capital Kiev Received 12 Ambulances And 8 Fire And Rescue Vehicles From Germany
Ukraine: From London's Air Ambulance Charity, StreetDoctors And CitizenAID Training Videos For War Wounded
Source: