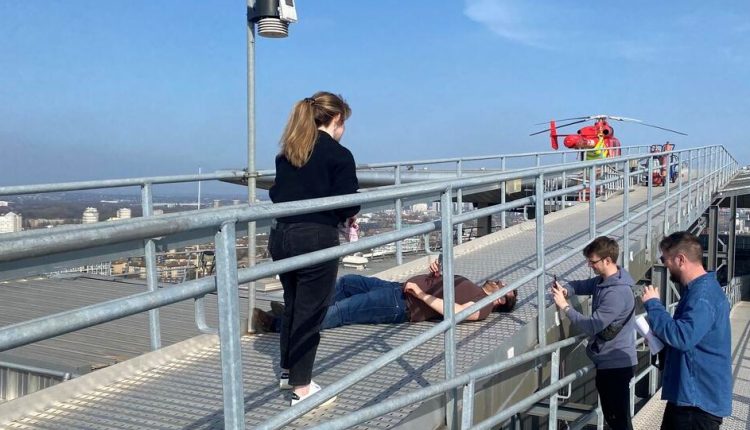 Ukraine: from London's Air Ambulance Charity, StreetDoctors and citizenAID training videos for war wounded
War in Ukraine: a coalition of UK medical charities and senior trauma doctors has released a series of training videos to help civilians save lives in the war in Ukraine
London's Air Ambulance Charity, StreetDoctors and citizenAID provided advice and support to create the videos alongside a group of senior doctors and emergency trauma specialists, including Prof David Lockey, Sir Keith Porter, Dr Phil Ward and Dr David McAroe.
Help for Ukraine: the videos are narrated by Ukrainian TV presenter and activist Timur Miroshnychenko
They have been translated into Ukrainian and Russian and an English version has been narrated by TV presenter and historian, Dan Snow.
The videos, produced by film and production company Objekt, were filmed at our helipad base and show doctors and paramedics demonstrating techniques to treat injuries of the kind that will be currently found on the streets of Ukraine.
Using simple techniques and readily available materials, the videos demonstrate what to do if someone is bleeding from a gunshot or sharp object such as shrapnel, if someone has lost a limb, or sustained a eye burn injury.
There are also videos on how to stop serious bleeding by creating a tourniquet and how to put someone in the recovery position if they are unconscious.
It is hoped that by knowing what to do, citizens will be empowered to provide key pre-hospital care and reduce the number of casualties.
All videos can be downloaded at civilianfirstaid.org and are also available through Civilian First Aid social channels, which you can find below:
Facebook
Instagram
Twitter
Telegram
Training video for the wounded in Ukraine: the authors' words
"The charities and doctors involved in this partnership are changing the way first aid training is delivered in conflicts.
As we're seeing in Ukraine, civilians are on the frontline, and this format means people without prior training will be able to equip themselves with simple life-saving skills.
By harnessing the immediacy and shareability of social media, we hope this information will reach the greatest number of people and save lives.

These videos can be stored, shared and used as a resource at the point of care, which understandably is something traditional first aid teaching cannot achieve".
Doctors Simon Jackson, Nick Rhead and Tom Kirschen, who came up with the idea and organised its grassroots
Read Also:
Emergency Live Even More…Live: Download The New Free App Of Your Newspaper For IOS And Android
Saving Lives Despite The War: How The Ambulance System Works In Kiev (VIDEO)
War In Ukraine, Humanitarian Aid From Italy, Spain And Germany Arrived In Zaporizhia
Ukraine Emergency, The Italian Red Cross Returns To Lviv
Ukraine Emergency: Second Mission Of The Italian Red Cross To Evacuate Vulnerable People From Lviv / VIDEO
Ukraine Emergency, 168 Ukrainian Children Received At Gaslini (Italy) In One Month, Fundraising For Families
UNICEF Transfers Ambulances To Eight Regions In Ukraine: 5 Are In Children's Hospitals In Lviv
Ukraine Emergency, Another Cargo Ship From The United Arab Emirates With Humanitarian Aid And Ambulances
Ukraine: The Capital Kiev Received 12 Ambulances And 8 Fire And Rescue Vehicles From Germany
Ukraine Emergency, The Drama Of A Mother And Two Children In The Words Of Porto Emergenza Volunteers
Source: