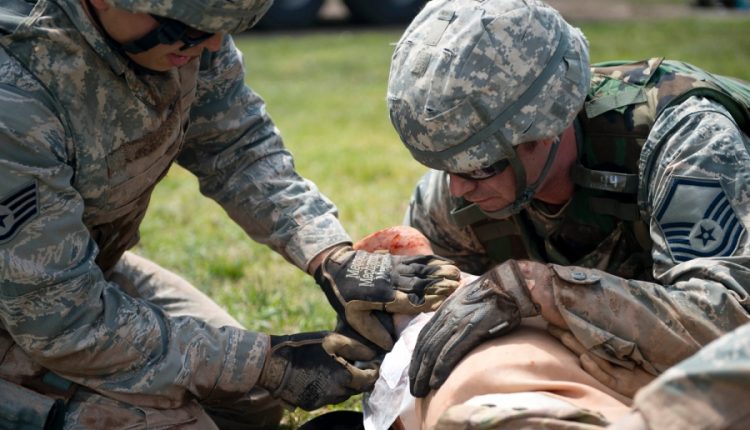 Interview with AURIEX - Tactical medical evacuation, training and mass bleeding control
RACFA in Italy has been a very interesting event organized by a partnership between Omnia, AREMT and Auriex. On this occasion, European participants and trainees came to know more on tactical medical evacuation and mass bleeding control in complex emergency scenarios.
The event mentioned above gives the overture to the faculty on the highest standards in the certification for Tactical Medical programs focused on bleeding control and medical evacuation in tactical fields, not only in Europe.
Our team of Emergency Live realized an interview with Christian of AURIEX and we are about to talk about the course he is realizing here, in Italy using RACFA, AREMT protocols and OMNIA Secura Academy protocols realized with Dr. Ron Gui, Krisztian ZERKOWITZ and Vanni Vincenzo.

RACFA courses: one of the highest quality 
bleeding control and medical evacuation in tactical fields training
Chris, could you give us more details about this special course?
"Yes, we are here in Italy to provide RACFA course which has been developed specifically for Law Enforcement and private security companies, because there was a gap between the existing programs and the true need for these units. We created the RACFA (Remote Area Combat First Aid) training basically focused on TECC medical protocols. However, we have put together some protocols that work better for law enforcement and private security companies, depending on the tactical capabilities and the men who are working on the street.
Massive bleeding, airways, respiration, circulation, hypothermia, basically the MARCH protocol as in the TCCC or TECC protocols, however, the tactics changed a little bit and we have a little bit different approach on what the mission is. So, we have our guys who complete the mission on the basis of three rules and three guidelines. However the mission is not saving people, the mission is going home at night making sure that the operators themselves get to go home. Saving life? Yes, of course, but that's their job and because they are professionals they do their job well. And because they do their job well, the casualties go home alive and so do the operators."
There is a specific skill you train your attendees about the bleeding control with Israeli bandage and tourniquets. Is it right?
"Well, except for the bandage, yes we teach how to control the bleeding with the CAT tourniquet, because one of the only tourniquets that allow one-hand operation, which means that the operator can use it on himself or herself, it stops the massive bleeding on one of the four extremities, or he or she can use it on the casualty, stopping the massive bleeding on either one of the four extremities. Besides, the tourniquet we use gauze and hemostatic bandages, to make sure that we can access areas where tourniquets cannot stop massive bleeding."
Why following the AURIEX course for EMTs and paramedics who work in the EMS setting?
"The answer is quite easy: AURIEX is made of people that are still operational. We are not only EMTs or private security professionals, we are people that have experience in both, however, we are still operational in the Middle East and Africa. We come back with a lot of experience from those countries and we are making sure that we can give information to people about things that might happen around the world.
For example before the 22nd of March the explosion that happened in Brussels at the airport and in the city centre, nobody was prepared and everybody had the opinion that nothing like this would come to Europe. Well, we are prepared on this matter. We know how it could happen, what the aftermath would be and how can we take care of this. And this is what we are trying to establish: making realization this is needed for EMTs, paramedics and everybody to have a better understanding of tactics and how to treat this type of injuries and tactical situations."
Bleeding control and medical evacuation in tactical fields – 

Being safe during a shooting or a terroristic attack

After our sincere "thank you" to Chris, we spoke also with Guillaume, Instructor of AURIEX in Brussels, too. With you, we would like to have a focus on being safe during a mission like a shooting or a terroristic attack. Operators have to take care of injured people, but they are not sure if they'll ever come home again.

Which advice you can give and which protocols can be used in such a setting?

"First: avoid casualties! It can sound strange, but running towards casualties is NOT the first thing to do. You must first look around you, assure that the setting around you is safe, and then you can proceed with your mission. Be careful and stay alert. We must teach not to become an eventual target, in order to reduce the number of casualties at the end. So, stay focused on what is there around you, so you can provide good care in combat setting."
In your opinion, which are the three notions an operator must keep in mind in such a scenario?
"There are three goals: the first, as I just said, is to avoid additional casualties. Second: treat casualties and the third one: complete the mission, like Chris said, get back home. Running everywhere and trying to save everyone is very dangerous. So, try to first avoid being yourself a casualty, and maybe you can help you're your friends and other people "
READ ALSO
REFERENCES