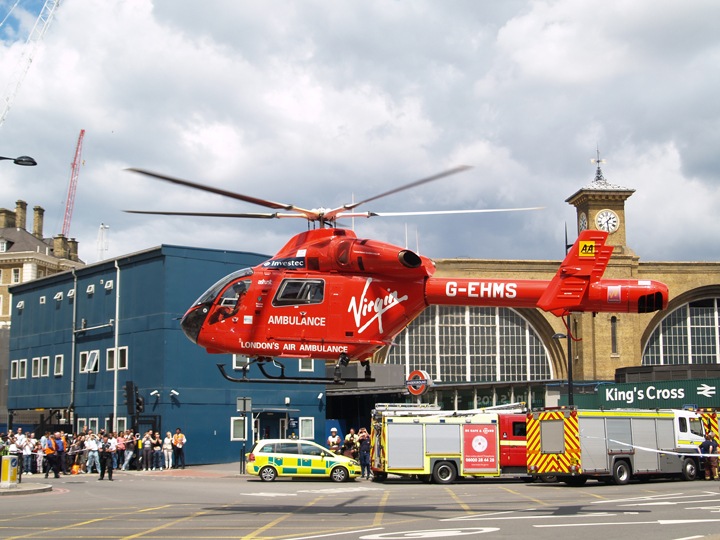 Prehospital blood transfusion in London, the importance of donating blood even during COVID-19
Increased prehospital cases of blood transfusion have been registered in London. Never as before, even if COVID-19 is threatening the entire world, blood donation has been so important.
The report arrives by London's Air Ambulance Charity. Yesterday, the association joined the World Blood Donor Day 2020 and raised awareness on blood donation, especially during COVID-19 pandemic.
Blood donation: blood transfusion cases increased during COVID-19 in London
In London, approximately 100 people a year suffer traumatic injuries and need an urgent prehospital blood transfusion. Indeed, without that, those patients may not arrive to the hospital alive.
The data collected by the Charity shows that during the COVID-19 pandemic the number of pre-hospital blood transfusions has increased from March 12th to May 31st 2020 compared to the same period in 2019, (30 transfusions and 24 transfusions respectively).
According to the Barts Health NHS Trust Consultants, who pioneered the blood on board initiative within London's Air Ambulance reported that injured patients in the COVID-19 period were also more seriously injured. With the experience also of Dr Anne Weaver, Consultant in Pre-Hospital Care at London's Air Ambulance and Clinical Director of Trauma at The Royal London Hospital, we can assure that this phenomenon highlights the need to continue donating blood despite the challenges associated with COVID-19, as traumatic injuries with serious bleeding sadly continue to occur.
With the advanced interventions and pre-hospital transfusions provided by the Air Ambulance teams, we are able to give these patients a far greater chance of survival, but this depends on the blood donors.
Blood donors are the key, their help is essential
Dr Waver showed the gratefulness of the entire London's air Ambulance Charity and said thanks to all those who made blood donation, and continue to donate, both in the past and throughout this time. Blood donation really does save lives.
Last year, 149 seriously injured patients received pre-hospital blood transfusions of the combined red cell and plasma product. The advanced trauma team at London's Air Ambulance are able to transfuse the blood directly into a large central vein, near the heart, so it can be transfused quickly, and it is given through a blood warmer to improve blood clotting and help stop the bleeding.

During the initial months of the COVID-19 pandemic, there were concerns that there would not be sufficient blood donors to be able to continue this world-class life-saving service. Contingency plans were made for the eventuality that there was insufficient O-negative blood and/or plasma for these patients.
BLOOD DONATION – ABOUT LONDON'S AIR AMBULANCE
London's Air Ambulance was the first air ambulance service in the UK to carry blood on board its aircraft and administer a pre-hospital blood transfusion to critically injured people suffering from catastrophic bleeding on scene. Since this began in 2012 there has been a reduction in pre-hospital deaths in London from 34% to 19%. Around three-quarters of all UK air ambulances now carry some form of blood product onboard.
READ ALSO
SOURCE