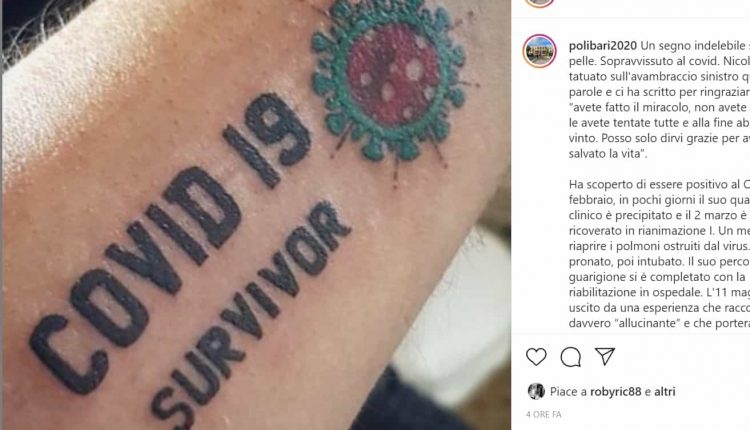 Italy, former patient tattooed with the words 'Covid 19 survivor' on his arm: 'a frightening experience'
A tattoo on the inside of the forearm, the words 'Covid 19 survivor' and a drawing, that of the coronavirus virion
PROTECTION FOR HEALTHCARE PROFESSIONALS? VISIT THE BIOCAREMEDIC BOOTH AT EMERGENCY EXPO AND DISCOVER HOW TO IMPROVE THE QUALITY OF YOUR WORK
A tattoo to forever remember "an amazing experience"
This is the choice made by Nicola, a former covid patient at the Policlinico di Bari, who discovered he was positive on 27 February.
In a few days, his clinical picture plummeted and on 2 March he was admitted to the Intensive Care Unit where he spent a month reopening the lungs obstructed by the virus.
He was first pronated, then intubated.
His recovery was completed with rehabilitation in hospital, and on 11 May he emerged from an experience he describes as 'hallucinating' and which he will now carry forever on his arm.
The story was made public by the Bari General Hospital's Instagram account.

Nicola sent a message to the doctors to thank them: 'You made the miracle, you didn't give up, you tried everything and in the end we won.
I can only say thank you for saving my life.
DAILY PROTECTION? VISIT THE SUISSE RESSOURCES STAND AT EMERGENCY EXPO
Read Also:
Pope Francis To Big Pharma: 'Pharmaceutical Companies To Liberalise Patents On Anti-Covid Vaccines'
WHO: 'Pandemic Will Continue Unless Vaccines Are Distributed To Poor Countries'
Source: