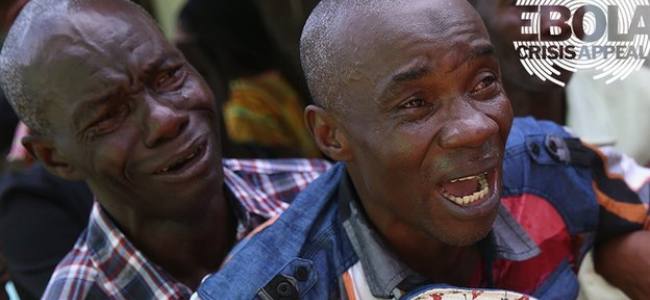 An appeal to help people affected by the Ebola crisis in West Africa has raised more than £10m in its first five days, organisers have said.
The Disasters Emergency Committee said the "milestone" was reached after the UK government matched the first £5m.
The appeal was launched on Thursday, with the DEC saying it had been "humbled" by the public's response.
Buckingham Palace confirmed the Queen had also made a donation to the appeal, but did not reveal the amount.
The DEC said it had already helped more than 2.5 million people affected by the Ebola outbreak, which has killed nearly 5,000 people, nearly all in West Africa.
It is the first time the organisation, which brings together 13 UK aid charities to tackle major crises, has sought funds in response to a disease outbreak.
'More to do'
DEC chief executive Saleh Saeed said the group wanted to thank "each and every person who has given", and also thanked the government for its "significant boost".
"Our member agencies have already achieved so much – providing protective clothing, educating communities and supporting safe and dignified burials – but there is so much more to do," he said.
The DEC said member agencies were scaling up their aid efforts in West Africa, reaching some of the worst-affected and most remote areas of Sierra Leone and Liberia.
The latest figures, released on Friday by the World Health Organization, suggest 4,951 people have died in the current outbreak, with 13,567 reported cases up to 29 October.
But the DEC said experts believed the real figures could be far higher because of under-reporting.
The UK, which has pledged £205m in aid, is leading the international response to the disease in Sierra Leone, a member of the Commonwealth which won independence from Britain in 1961.
In all, the UK is deploying about 750 military personnel to the country to help establish and run treatment facilities and a training academy.
It has also sent casualty ship the Royal Fleet Auxiliary Argus, along with three Merlin helicopters, which are offering offshore support to the effort.
Who else has the DEC raised money for?
A total of £71m was raised by the Pakistan Floods Appeal which affected more than 18 million people. The floods swept across the country in July and August of 2010
The UK public donated £95m for the Philippines Typhoon Appeal which has to date helped more than 900,000 people. The appeal was launched in November 2013
The Syria Crisis Appeal opened in March 2013 and has raised about £25m
An appeal for people affected by the fighting in Gaza was launched in January 2009 and raised £8.3m
A total of £107m was raised for people adversely affected by the earthquake in Haiti
The DEC brings together 13 UK aid charities – ActionAid UK, Age International, British Red Cross, Cafod, Care International, Christian Aid, Concern Worldwide, Islamic Relief, Merlin, Oxfam, Plan UK, Save the Children, Tearfund and World Vision.