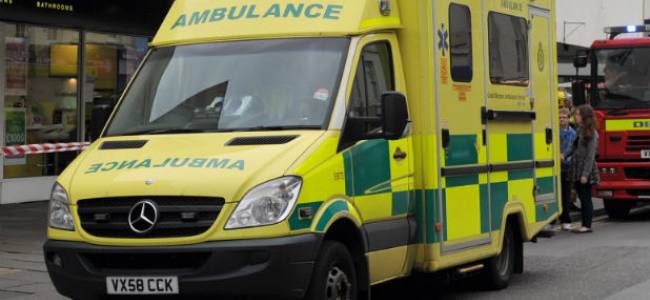 Cheltenham: Ambulance driver suspended after two pedestrians injured in crash
(GLOUCESTERSHIRE ECHO) – An ambulance driver has been suspended from duty, pending investigations, after a crash with two pedestrians while on the way to attend an emergency call.
The two pedestrians, who remain in hospital with serious injuries, were treated on the spot by the driver of the rapid response vehicle. The crash happened on the A40, just outside GCHQ in Cheltenham. around 12.30am today.
The rapid response vehicle from South Western Ambulance Service had been responding to an emergency call just after midnight. Paramedics rushed to the road between the Benhall and Arle Court roundabout after the driver radioed in for back up. The paramedic driving the car had jumped out of his vehicle to help both men. Both pedestrians, a 30-year-old man from Cricklade, Wiltshire and a 32-year-old man from Bristol, were taken to Gloucestershire Royal Hospital by another two ambulances.
The Wiltshire resident is still in Gloucestershire Royal Hospital with serious leg injuries. It is not known if they are life-threatening or life-changing. The 32-year-old pedestrian was transferred to Southmead Hospital, in Bristol, where he received treatment for serious head injuries. He remains in a serious condition. The male driver of the ambulance vehicle was shaken but otherwise not injured. A spokesman for the ambulance service confirmed he has since been suspended while investigations are ongoing, and will have to sit for a driving assessment with a driving instructor before being allowed back on the roads again.

She added it was "standard practice" and a "thorough investigation" was already underway.
"It is a process that is standard practice when something like this happens. He started treating both the men after the incident and called in for back up," she added. A spokesman for Gloucestershire Police said investigations were ongoing.
He added: "The road at the scene remained closed for five hours, to allow officers from the Tri Force Specialist Operations Collaboration to conduct a detailed investigation of the incident.
"The investigation team is requesting that any witnesses who have not yet come forward and provided their details, please get in touch by calling 101 and quoting incident number eight of 17/08/2014."
Read more: http://www.gloucestershireecho.co.uk/Ambulance-driver-suspended-pedestrians-injured/story-22759055-detail/story.html#ixzz3ApgyAN4E