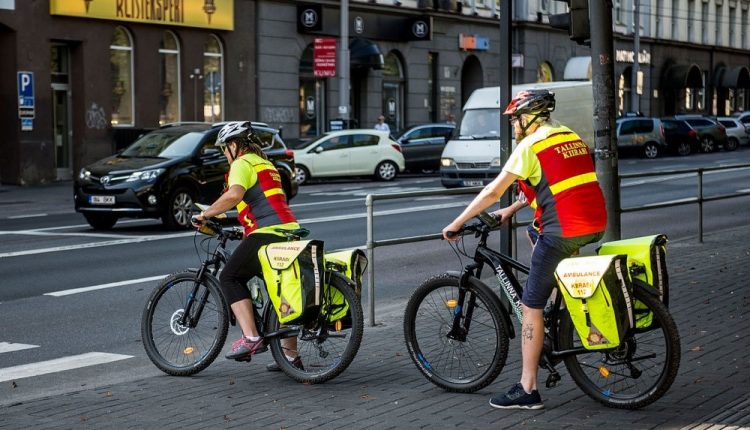 Estonia, ambulance bike patrol resumes operations in Tallinn
Estonia, after a break of two years, the bike-ambulance patrol resumes operations in Tallinn
INTRIGUED BY MP3? LEARN MORE BY VISITING THE PIAGGIO BOOTH AT EMERGENCY EXPO
"This summer we can expect tourism to pick up and there will again be a need to ensure an ambulance presence in the Old Town.
We will start an ambulance bike patrol as in previous years: two employees will be on duty 12 hours a day in the Old Town and in Kesklinn," said Raul Adlas, chief physician at Tallinna Kiirabi.
TRAINING IN FIRST AID? VISIT THE DMC DINAS MEDICAL CONSULTANTS BOOTH AT EMERGENCY EXPO
Ambulance bikes, a smart way to rush to the patient in less accessible places in city centres
"In terms of personnel and equipment, the bicycle patrol is very similar to a normal ambulance.
Likewise, calls are made to 112, mostly by the ambulance bike patrol serving the needy in public street locations.
If there is a need to send a patient to hospital, an ambulance is called on the spot," explained Adlas.
According to the chief, the advantage of the bicycle ambulance patrol is that it can move faster through narrow streets where there are outdoor cafés and many people.
"In case of bad weather, we will not send a bicycle patrol," Adlas added.
Previously, electric bicycles were used, capable of supporting speeds of up to 25 kilometres per hour.

The cycling team's batteries were charged by solar panels on the roof of the building in Tallinna Kiirabi.
EMERGENCY RADIO IN THE WORLD? VISIT THE EMS RADIO BOOTH AT EMERGENCY EXPO
Read Also:
Emergency Live Even More…Live: Download The New Free App Of Your Newspaper For IOS And Android
Motorcycle Ambulance Or Van-Based Ambulance – Why Piaggio Mp3?
COVID-19 In Israel, Emergency Rapid Response Is Made In Italy: The Experience With MP3 Motorcycle Ambulance
The Emergency Service In Georgia Will Use 41 Piaggio MP3s: The Testing Phase Is Beginning
Kyrgyzstan: Red Crescent Launches Ambulance Service For COVID-19 Infected In Bishkek
India: 'Ambulance Bikes' To Deliver Medicines To COVID Patients At Home
Spencer India Launches Bike Ambulance Making First Response Faster Than Ever
Source: