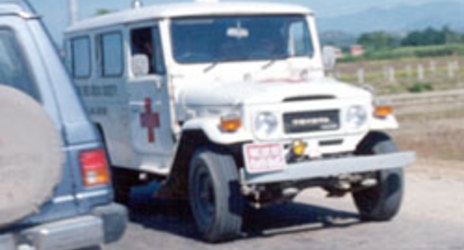 Nepal, Red Cross Ambulance attacked by anti-government protesters
Red Cross organisations condemned on Monday an attack in Nepal by anti-government protesters who stopped an ambulances and killed an injured policeman during unrest over a proposed new constitution. Protests have erupted in the southern plains of the Himalayan country since a draft of a constitution to set up a federal system was presented last month, with members of a minority group rejecting the plan to divide their region. The Red Cross ambulance was carrying a policeman injured in clashes and was ambushed on Friday. The attackers dragged the officer out of the vehicle and killed him, police said. The protesters then torched the vehicle.
"The Red Cross calls on all parties to exercise restraint and urge them to allow ambulance services to carry out their tasks," the Nepal Red Cross Society, the International Committee of the Red Cross and International Federation of Red Cross and Red Crescent Societies said in a statement.
All parties should ensure injured people got health care without discrimination, they said.
Many people in the region bordering India oppose the draft constitution which would split their narrow homeland and merge pieces into larger provinces with other ethnic groups.
The agitation has led to schools, government offices and hospitals being closed in the region for the last three weeks.

At least 40 people have been killed, the majority of them protesters in police firing.
In Kathmandu, the government said a final draft of the constitution may be finished in a week – the first in Nepal's history to be written by elected representatives.
The drafting was halted for two days last week, in an attempt to bring all political parties on board. But agitating groups refused to sit for talks, saying the government had not met their preconditions.
Source: