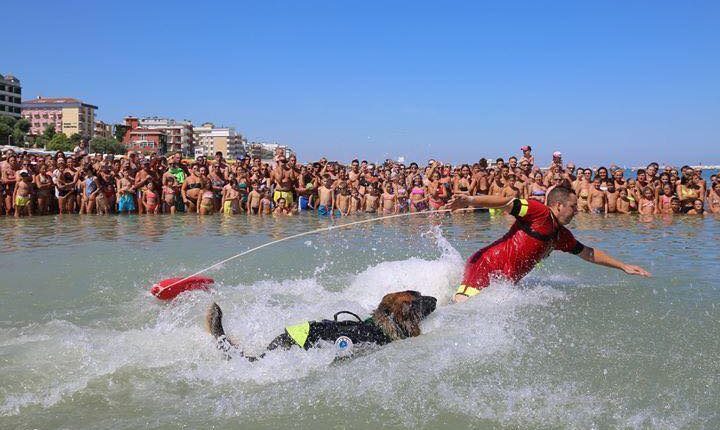 Water rescue dogs: How are they trained?
Training for water rescue dogs, or lifeguard dogs, is very important in order to save lives. All over the world dogs have always been essential for rescuers.
Water rescue dogs have been known and used for a long time in rescue missions. In this general category, there is a specific rescue dog unit, which does not deal with research through the smell, but it includes an act of physical support to the rescuer as a primary objective.
Liferescue dogs are therefore not the only to work, but precisely the pair dog-trainer. This is because the dog understands and executes the commands of his trainer and helps him/her in recovering the injuried or the person with difficulties in the water, as a mission.
What do water rescue dogs do?
Water rescue dogs are divided into rescue units that support Civil Protection and Sea Guard. Initially, water rescue dogs were Newfoundland dog and Labrador. Over the years, the names of "lifeguard dogs" or "baywatch dogs" have been wasted. But the development of studies on canine education and the real abilities of the various breed has meant that hundreds of dogs of other races have become operational.
Training is very important. It allows a dog and their trainer to become a real team, with a relationship that guarantees work in the water in harmony and safety.
Lifeguard dogs swim to the person who requests for help, ensure the bather in difficulty, bring one or more people to the shore at the same time, working on both short and long distances. Some units are trained to operate in helicopters or carry out rescue operations onboard rescue vehicles.
Which are the right liferescue dogs?

In all rescue areas, dogs play a very important role in supporting patients and rescuers. This is possible thanks to their physical qualities, their will and their skill to execute precise orders given by the trainer. We are used to learning about Newfoundland dogs as the main breed as lifesaving dogs.
It is a powerful dog, able to tow more people at the same time (even boats, if necessary), a resistant dog. It is able to swim for many hours and for long distances, insensitive to cold, so immediately operational. He is a calm dog, able to reassure even a bather in difficulty and in an anxiety crisis after the risk of drowning. In the end, it is a tenacious dog, who wants to carry out his mission at any cost.
READ ALSO