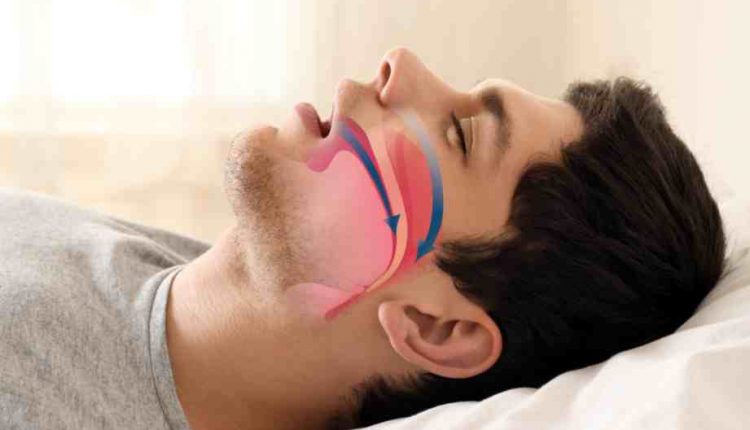 Sleep apnoea and cardiovascular disease: correlation between sleep and heart
The obstructive sleep apnoea syndrome produces poor oxygenation of the blood; this will, over time, affect the entire body, particularly the heart, and cause the onset of diseases such as: hypertension, diabetes, obesity, heart attack and stroke
Sleep apnoea and cardiac risks
The cardiovascular risks associated with obstructive sleep apnoea are high, especially if not properly treated.
Those who sleep between 5 and 6 hours a night, and who are affected by sleep apnoea, are more prone to cardiovascular and metabolic diseases, resulting in increased risk factors.
Approximately 5% of the global population is affected by sleep apnoea; in those over 40, however, sleep apnoea has an incidence of 15%.
Obstructive sleep apnoea occurs when there is a temporary cessation of breathing.
It lasts several seconds but may recur several times during sleep.
Untreated sleep apnoea has very serious consequences on organs, including the heart, brain and even blood vessels.
Symptoms and diagnosis
Drowsiness, exhaustion, lack of concentration and snoring are just some of the symptoms of obstructive sleep apnoea.
These symptoms are not immediately linked to sleep apnoea and are not considered dangerous.
Obstructive sleep apnoea causes an abrupt and intermittent reduction in blood oxygen saturation and causes increased activation of the sympathetic nervous system, which contributes to the development of hypertension, coronary heart disease, arrhythmias, heart failure, stroke, glucose intolerance and diabetes.
To diagnose the condition, it will be necessary to perform polysomnography at a centre specialising in sleep disorders, with the combined analysis of neurological and cardiovascular respiratory function.
The severity of sleep apnoea is assessed through the apnoea-hypopnoea index (AHI), which concerns the average number of apnoeas and hypnoeas per hour of sleep.
Sleep apnoeas and hypertension
Sleep apneas will cause an increase in daytime blood pressure.
During the night, apneas and hypopneas cause an increase in blood pressure and sympathetic nervous system activity.
For the same blood pressure, people suffering from such apneas have faster heart rates, reduced heart rate variability and increased blood pressure variability.
All indicators of increased cardiovascular risk.
Sleep apnoea, cardiovascular risks and stroke
It has been scientifically proven that there is a correlation between sleep apnoea and cardiovascular diseases, including arrhythmias, coronary heart disease and myocardial infarction.
It is not only hypertension that obstructive sleep apnoea can lead to cardiovascular disease.
Obstructive sleep apnoea significantly increases the risk of stroke and death.
About 20 per cent of patients with obstructive sleep apnoea also have nocturnal episodes of angina pectoris.
Obstructive sleep apnoea syndrome is often associated with multiple coronary risk factors, including diabetes, visceral obesity or smoking.
Almost half of people with chronic heart failure have obstructive sleep apnoea, they will have a significantly reduced survival compared to other patients with the same problem.
About 50 per cent of patients with atrial fibrillation have sleep apnoea, as do 30 per cent of people who have suffered a heart attack.
This means that those who manifest that they suffer from obstructive sleep apnoea are twice as likely to have cardiac complications or events such as heart attack or stroke.
It will therefore be crucial to have a prompt and accurate diagnosis.
The cardiologist or specialist who treats any pathologies affecting the cardiovascular system must collaborate with professionals who are experts in disorders of the are in order to have a rapid and exhaustive diagnosis.
The therapeutic approach should include a correct diet, physical activity and eliminating unhealthy habits such as smoking and alcohol consumption.

Sleeping in the supine position is not recommended, and the use of devices to monitor blood pressure and improve cardiovascular prognosis may be necessary.
It is therefore advisable, given the correlations between sleep apnoea and cardiovascular risks, to carry out check-ups with specialists in sleep disorders to avoid even serious complications.
Read Also
Emergency Live Even More…Live: Download The New Free App Of Your Newspaper For IOS And Android
Myocardiopathy: What Is It And How To Treat It?
Venous Thrombosis: From Symptoms To New Drugs
Cyanogenic Congenital Heart Disease: Transposition Of The Great Arteries
Heart Murmur: What Is It And What Are The Symptoms?
Cardiopulmonary Resuscitation Manoeuvres: Management Of The LUCAS Chest Compressor
Supraventricular Tachycardia: Definition, Diagnosis, Treatment, And Prognosis
Identifying Tachycardias: What It Is, What It Causes And How To Intervene On A Tachycardia
Myocardial Infarction: Causes, Symptoms, Diagnosis And Treatment
Aortic Insufficiency: Causes, Symptoms, Diagnosis And Treatment Of Aortic Regurgitation
Congenital Heart Disease: What Is Aortic Bicuspidia?
Atrial Fibrillation: Definition, Causes, Symptoms, Diagnosis And Treatment
Ventricular Fibrillation Is One Of The Most Serious Cardiac Arrhythmias: Let's Find Out About It
Atrial Flutter: Definition, Causes, Symptoms, Diagnosis And Treatment
What Is Echocolordoppler Of The Supra-Aortic Trunks (Carotids)?
What Is The Loop Recorder? Discovering Home Telemetry
Cardiac Holter, The Characteristics Of The 24-Hour Electrocardiogram
Peripheral Arteriopathy: Symptoms And Diagnosis
Endocavitary Electrophysiological Study: What Does This Examination Consist Of?
Cardiac Catheterisation, What Is This Examination?
Echo Doppler: What It Is And What It Is For
Transesophageal Echocardiogram: What Does It Consist Of?
Paediatric Echocardiogram: Definition And Use
Heart Diseases And Alarm Bells: Angina Pectoris
Fakes That Are Close To Our Hearts: Heart Disease And False Myths
Source