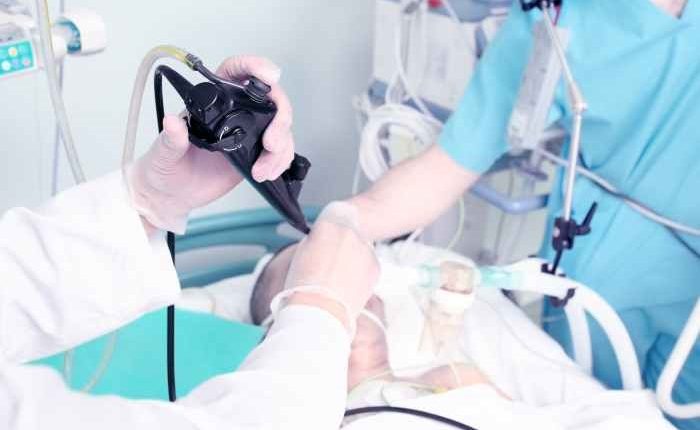 What is bronchoscopy and when is it used?
Bronchoscopy is a diagnostic test that is carried out by the doctor thanks to a specific instrument, the bronchoscope, which is introduced through the patient's mouth or nose
It can be performed under local anesthesia, under sedation or under local anesthesia and sedation (simultaneously).
What is bronchoscopy for?
Bronchoscopy is frequently used for diagnostic reasons (endobronchial tumours, sarcoidosis, interstitial lung pathologies, pulmonary infections) through some application methods (trans-bronchial biopsies, needle aspirations, broncho-aspirates, bronchiolo-alveolar lavage).
It can also be used for the removal of accidentally inhaled foreign bodies or for other operative procedures.
How does bronchoscopy work?
The patient is prepared about 30 minutes before the exam is performed.
Glasses, necklaces and jewellery, hearing aids and everything that could hinder the examination are removed, then an anesthetic is administered and an intravenous catheter is applied, in case it is necessary to administer drugs in the course of the procedure.
Then, the bronchoscope is inserted and gently passed through the airways.
At the end of the examination, the patient is kept under control for about two hours, to make sure that no complications have arisen.
There are some absolute contraindications to bronchoscopy
Patients suffering from blood coagulation disorders, cardiac arrhythmias, ischemic heart failure or disease, due to the risks associated with the invasiveness, albeit slight, of the examination, should undergo bronchoscopy only after specialist evaluation.
In addition, patients suffering from bronchial asthma should not be examined if there is an ongoing seizure due to bronchoconstriction or bronchospasm.
Even those who have problems with tracheal stenosis, respiratory insufficiency or high pulmonary pressure should only be examined in cases of extreme necessity.
Is it a painful or dangerous exam?
In most cases, bronchoscopy has no side effects other than minor discomfort as the instrument passes through the throat.
In any case, the examination is followed by a two-hour observation period, to verify that the patient does not have breathing problems or small bleeding due to the examination.
The anesthetic could cause, in the following hours, dry mouth, slowing of reflexes and drowsiness.
Read Also
Emergency Live Even More…Live: Download The New Free App Of Your Newspaper For IOS And Android
Echo-Doppler Of Vessels: Characteristics And Limitations Of The Method
Bronchial Asthma: Symptoms And Treatment
Bronchitis: Symptoms And Treatment
Bronchiolitis: Symptoms, Diagnosis, Treatment
Chest Pain In Children: How To Assess It, What Causes It
Bronchoscopy: Ambu Set New Standards For Single-Use Endoscope
Respiratory Distress: What Are The Signs Of Respiratory Distress In Newborns?
Emergency Paediatrics / Neonatal Respiratory Distress Syndrome (NRDS): Causes, Risk Factors, Pathophysiology
Respiratory Distress Syndrome (ARDS): Therapy, Mechanical Ventilation, Monitoring
Bronchiolitis: Symptoms, Diagnosis, Treatment
Chest Pain In Children: How To Assess It, What Causes It
Bronchoscopy: Ambu Set New Standards For Single-Use Endoscope
Bronchiolitis In Paediatric Age: The Respiratory Syncytial Virus (VRS)
Symptoms Of Bronchiolitis In Infants And Children. How Is It Treated?
Paediatric Seasonal Illnesses: Acute Infectious Rhinitis
Pediatrics: What To Do In Case Of High Fever In Children?
Seasonal Illnesses: What To Eat When You Have Flu?
Plaques In The Throat: How To Recognise Them
Tonsillitis: Symptoms, Diagnosis And Treatment
Sore Throat: How To Diagnose Strep Throat?
Sore Throat: When Is It Caused By Streptococcus?
Pharyngotonsillitis: Symptoms And Diagnosis
Flu Vaccine For Children? Paediatricians: 'Do It Now, Epidemic Already Started'
Paediatrics / Recurrent Fever: Let's Talk About Autoinflammatory Diseases
Q Fever: What It Is, How To Diagnose It And How To Treat It
Respiratory Allergies: Symptoms And Treatment
RSV (Respiratory Syncytial Virus) Surge Serves As Reminder For Proper Airway Management In Children
Acute And Chronic Sinusitis: Symptoms And Remedies
Symptoms And Remedies Of Allergic Rhinitis
Respiratory Or Food Allergies: What Is The Prick Test And What Is It For?
Anaphylactic Shock: What It Is And How To Deal With It
Sinusitis: How To Recognise That Headache Coming From The Nose
Sinusitis: How To Recognise And Treat It
Flu Vaccine For Children? Paediatricians: 'Do It Now, Epidemic Already Started'
Rhinitis, Inflammation Of The Nasal Mucous Membranes
High Fever In Children: What Is Important To Know
Source