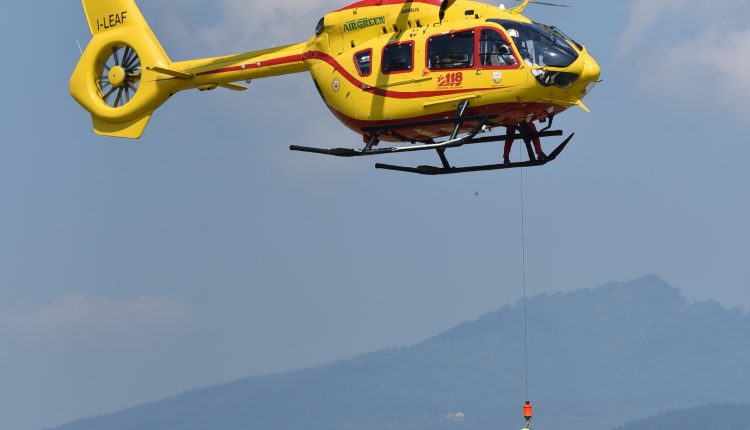 HEMS, what types of helicopter are used for helicopter rescue in Italy?
Let's talk about HEMS rescue: although it is often thought that helicopter rescue uses a single helicopter model, this is not always the case for all regions and situations in which HEMS, SAR, AA services are required
Here we will take a direct look not only at the various rescue operations in which direct helicopter participation is required, but also at the various models used and their substantial differences in the field.
Hems in Italy: first of all, what types of intervention can take place during helicopter operations?
HEMS, defined as Helicopter Emergency Medical Service on an Italian form. Used when there is an urgent need to transport patients or rescue them in areas where no ground transport can reach.
SAR, defined as Search and Rescue. In this case the helicopter is used to search for a missing person.
AA, defined as Air Ambulance. Similar to the HEMS operation, it is always a matter of transporting a patient, but in this case the operation is more defined by planning (like a transport from one hospital to another).
CNSAS, defined as the Corpo Nazionale Soccorso Alpino e Speleologico. In a nutshell, a helicopter used expressly for this association, for rescues that relate to their field of intervention: the mountains.
Are different helicopter models used for these types of intervention?
The reality is that there are specific vehicles that are used in a multi-role manner.
So you can always see the same helicopters in mountain rescue and in urban environments.
However, there are a few small differences, and this concerns three factors: transport space, power and class.
The first is defined quite simply.
A helicopter, depending on its class, can carry its pilots as well as a certain number of passengers.
The second is best indicated by the presence of certain particular components, such as precise turboshafts.
The third finally defines more precisely what a helicopter can do.
The classes in which we will focus most are Utility and Multirole, considering that they are part of the models most used by the Italian helicopter rescue service.
HEMS, so here is what we can say about the various models used today in helicopter rescue in Italy:
Eurocopter EC145 (T2 variant)
This is a utility class helicopter, a light type.
Despite its role, it can carry up to 10 people (not counting the maximum of 2 pilots).
It is a helicopter capable of providing rescue in all available scenarios thanks to its load capacity and the presence of two Arriel 2E turboshafts and a Fenestron rotor.
It is one of the most popular nationwide.
Eurocopter EC135
A smaller version of the EC145, capable of carrying up to 7 passengers with a single pilot at the controls.
Still a famous twin turbine model, with a few still in use in Italy.
It was criticised for not being adequate for all the most intense scenarios (such as high-altitude rescue) but proved again and again to be an excellent base on which to build the ultimate helicopter.

A multi-role helicopter with twin engines, famous for being used even today despite their age (produced in the 1980s). T
hey are mainly dedicated to the single transport of those in need of rescue, not many people on board apart from the two pilots.
Nevertheless, they can be adapted to a large number of purposes and missions, with ever-changing equipment.
AgustaWestland AW139
A medium sized SAR/multirole helicopter, used specifically in some of the more complicated scenarios.
Equipped with two turboshafts, it can carry up to 15 passengers (excluding the maximum of two pilots).
There is at least one model in the largest 118 operations centres, as well as other emergency services.
THE BEST EQUIPMENT FOR HELICOPTER TRANSPORT? VISIT THE NORTHWALL STAND AT EMERGENCY EXPO
Helicopter rescue in Italy, these are the most used models at the moment on Italian territory in HEMS operations
In truth, there are a total of 10 different models of helicopters in use, but not all of them are specifically used in Helicopter Rescue.
Some are in fact used by the Carabinieri or the Guardia di Finanza.
A final mention must be given to the Eurocopter BK 117 (also known as the Kawasaki BK 117), a model which is still used today, predating the many more modern Eurocopters.
But to conclude this speech, the types of helicopters which are often used in this field are Utility or Multirole.
In truth, these terms are often interchangeable, since utility helicopters can also be configured according to the type of operation.
For example, a utility helicopter can still transport a sick person on a stretcher, accompanied by a doctor or nurse.
What changes in the Multirole is the use in environments that are usually defined as more intense, with more in-depth equipment for that situation.
Finally, the SAR is the transport helicopter par excellence, even though it can be adapted to three types of general transport (from the smallest as VIP to the largest as High Density).
Therefore, there is no single helicopter used as a helicopter for helicopter rescue.
There are currently a few main models that are adapted according to the necessary purpose, of which a couple are really specific for some really complex situations.
Read Also:
MEDEVAC With Italian Army Helicopters
HEMS And Bird Strike, Helicopter Hit By Crow In UK. Emergency Landing: Windscreen And Rotor Blade Damaged
When Rescue Comes From Above: What Is The Difference Between HEMS And MEDEVAC?