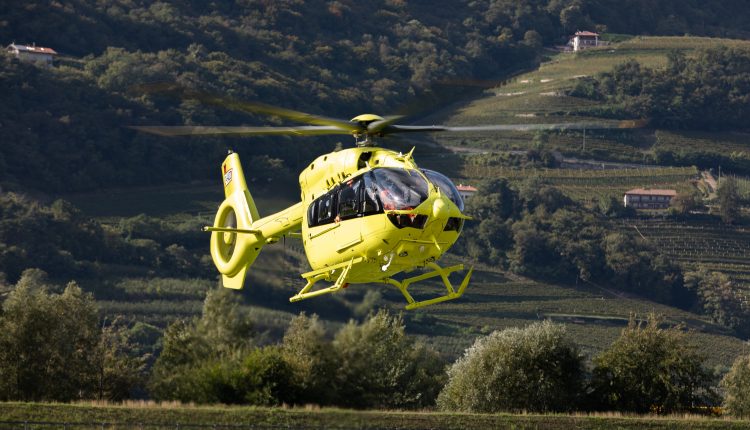 Estonia first country for LifeSaver, the emergency medical response programme of Airbus and International SOS
Airbus Helicopters and International SOS join forces to launch a programme to improve next-generation emergency medical systems
THE BEST EQUIPMENT FOR HEMS OPERATIONS? VISIT THE NORTHWALL BOOTH AT EMERGENCY EXPO
LifeSaver, a programme developed by Airbus Helicopters and International SOS, makes its debut in Estonia
Airbus Helicopters has partnered with International SOS to launch a next-generation emergency medical system improvement programme – LifeSaver – that enhances healthcare systems to improve patient outcomes.
Estonia is the first country to partner with International SOS and Airbus Helicopters to launch a national innovation programme dedicated to improving the emergency medical system (EMS) through LifeSaver.
Estonia is at the forefront of technological innovation, including in the medical sector.
As the first country to implement the LifeSaver solution, Estonia is taking a medium- and long-term vision to improve its EMS response capabilities.
The programme was created to improve, modernise and support healthcare systems around the world, many of which have faced significant pressure in recent years due to the pandemic.
The approach puts people at the centre and is designed to improve medical outcomes and save more lives.
This medically-led programme maximises the use of modern technology, optimising outcomes and creating equitable access to emergency systems, regardless of location within a country.
It is based on the efficient and effective use of existing resources and optimises EMS processes to ensure service efficiency.
TECHNOLOGICAL INNOVATION AT THE SERVICE OF FIREFIGHTERS AND CIVIL PROTECTION OPERATORS: DISCOVER THE IMPORTANCE OF DRONES ON THE FOTOKITE BOOTH
Collaboration with Airbus: Nick Peters, President and CEO of Government Services at International SOS, commented
"We at International SOS have 37 years of experience in putting people's health and safety first and ensuring the best possible level and quality of care for those in need.
Over the years, much of our work has included supporting governments and government agencies across medical systems and cultures, and this partnership with Airbus through the LifeSaver programme is an extension of that.
We are pleased to partner with the Government of Estonia, along with Airbus, to launch the LifeSaver programme in the country and enhance their EMS capabilities."
THERMAL IMAGING CAMERAS FOR SAFE FIRE MANAGEMENT: VISIT THE HIKMICRO BOOTH AT EMERGENCY EXPO
Collaboration with International SOS: Balkiz Sarihan, Head of Urban Air Mobility at Airbus, said
"LifeSaver is one of the ways in which we, as Airbus, are working towards the next generation of emergency medical systems together with International SOS and our existing network of operator partners and healthcare professionals.
By working at the ecosystem level we will be able to facilitate improvements in the rescue chain.
Estonia offers the ideal environment for the launch, as it is a country renowned for innovation; we are excited to further develop this area, utilising the country's capabilities in the areas of technology and digital."
Joonas Vänto, Director of Invest Estonia, adds
"Our goal with LifeSaver is ultimately improved outcomes for patients and social benefits for Estonians.
It is a great opportunity for us to show what Estonia offers in terms of innovation – technology that works in such a critical environment is an important example of best practice that other countries can learn to implement in their emergency medical systems."
The LifeSaver programme can deliver efficiencies including reducing first responder response times, creating equitable EMS service levels across all geographic areas of countries, both in cities and remote locations, and optimising a country's logistics network.
Read Also
Emergency Live Even More…Live: Download The New Free App Of Your Newspaper For IOS And Android
Helicopter Rescue, Europe's Proposal For New Requirements: HEMS Operations According To EASA
HEMS / Helicopter Operations Training Today Is A Combination Of Real And Virtual
When Rescue Comes From Above: What Is The Difference Between HEMS And MEDEVAC?
MEDEVAC With Italian Army Helicopters
HEMS And Bird Strike, Helicopter Hit By Crow In UK. Emergency Landing: Windscreen And Rotor Blade Damaged
HEMS In Russia, National Air Ambulance Service Adopts Ansat
Helicopter Rescue And Emergency: The EASA Vade Mecum For Safely Managing A Helicopter Mission
HEMS And MEDEVAC: Anatomic Effects Of Flight
The New Airbus H145 Climb The Aconcagua Mountain, 6,962m A.L.S.
Airbus Helicopters Sets A New Milestone Of Quality And Experience For The Italian HEMS Market
HEMS / French Sécurité Civile To Expand Fleet With Two Airbus H145s
HEMS, The Five-Blade Airbus BK117-D3 Pelikan 3 Made Its Debut In South Tyrol
HEMS: Swiss Air-Rescue Rega Orders Nine Airbus H145 Five-Blade Aircraft
Source