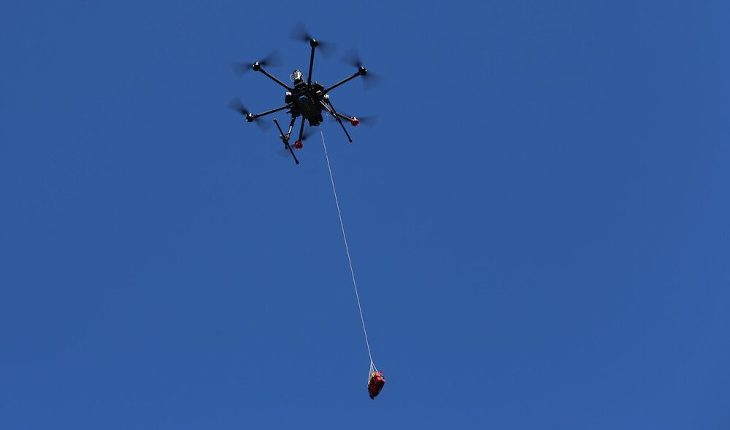 Drones in emergency care, AED for suspected out-of-hospital cardiac arrest (OHCA) in Sweden
Drones are used in many different fields. In emergency care, some country is testing drones to reach patients in a faster way. This is the case of Sweden, where the main emergency operator uses drones to deliver Automated External Defibrillator for OHCA cases.
The delivery of an AED for out-of-hospital cardiac arrest (OHCA) cases with a drone is a very important piece of emergency care development. SOS Alarm operates Sweden's 112 emergency number and it will start a trial in June to test the use of drones to deliver Automated External Defibrillators (AED) for OHCA cases.
Drones in emergency care for OHCA – Probabilities and outcomes
Clinical studies in the use of drones in emergency care to transport essential equipment for real accidents is carrying out by the SOS Alarm, the Center for Resuscitation Science at Karolinska Institute (KI) and software company Everdrone.
The test will be held between June and September and will be focused on a service area of around 80,000 residents, however, the plan is to extend the use of drones to transport AED in case of OHCA in Sweden. It is not a substitution of the ambulance dispatching, of course. But the drone will complement existing ambulance dispatching.
When an OHCA case happens the drone will use GPS technology and advanced camera systems to navigate to the scene of the emergency. The AED will reach the person in need with the ambulance.
Emergency care – The impact of drones in OHCA cases
The Center for Resuscitation Science at Karolinska Institute, reports that more than 6,000 OHCA cases are reported each year, but only one in ten patients survive. Each minute that the patient does not receive CPR or defibrillation, the chance of surviving a cardiac arrest is reduced by 10%.
Drones that would drop an AED suddenly and directly to the location will help the 112 caller or other bystanders to initiate rescue efforts more quickly. In emergency care, every second counts. Drones are quick and they do not risk to meet traffic jams.
What about the flight? Can drones for emergency care fly safely to an OHCA case?
Another topic to focus on is the approval of the Government. The Swedish Transport Agency has authorised a special permit for emergency care operations and examined the project from a safety perspective. in addition, the issue of the flight is absolutely no problem because the drones will largely fly autonomously but will be monitored by a drone pilot, while the air traffic will be controlled at Säve airport, to manage any risk of conflicts within the local airspace.
READ ALSO