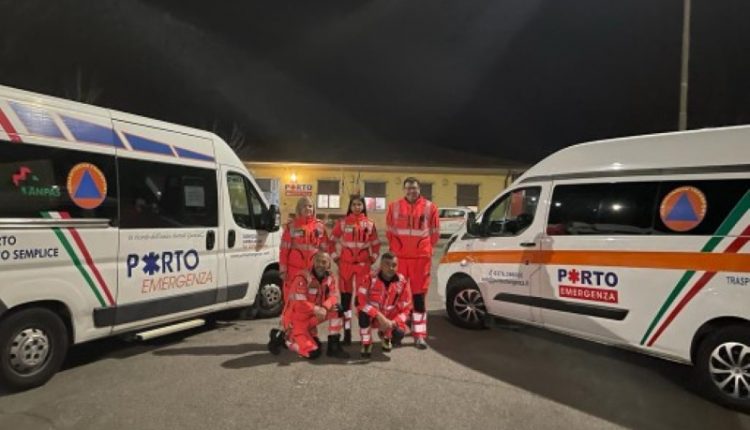 Porto Emergenza: a new mission for Ukraine, the trip to Krakow (Poland)
A new mission to deliver humanitarian aid to Ukraine, for Porto Emergenza: the volunteers, joined by a volunteer from the Croce Verde of Viadana, left for Poland
DO YOU WANT TO DISCOVER THE MANY WONDERFUL ACTIVITIES OF THE ANPAS VOLUNTEERS OF PORTO EMERGENZA? VISIT THEIR BOOTH IN EMERGENCY EXPO

Ukraine crisis, Porto Emergenza's humanitarian aid
It is in Poland, exactly in Krakow, that the collection and sorting centre to which Porto Emergenza refers is located.
Poland, moreover, is probably the nation that has most welcomed and cared for the Ukrainian refugees, collateral victims of artillery fire.

In aid of Ukraine, the Porto Emergenza story
On Friday, 10 March at 20:30, 5 volunteers (4 from Porto Emergenza and a volunteer from the Croce Verde of Viadana) left our headquarters with 2 of our minibuses full of boxes containing medicines, clothes, sanitary material, nappies,.. to donate them to the voluntary association "4 Peron" of Krakow, which collects material that they will partly take to Ukraine to people in need, and partly retained by them as they are hosting about fifteen people who have escaped from Ukraine.
This association, '4 Peron', was born from a small group of people who met by chance some time ago, at the beginning of the conflict, at platform 4 in Krakow, hence the name, to help those fleeing the war; after realising that they were there for a common goal, they decided to start collaborating, achieving good results.
Once we arrived at our destination, we were warmly welcomed by the 4 Peron volunteers, who unloaded the minibuses with us and introduced us to their organisation, which is independent of any large subsidies and plays a very important role.
We spent a few hours in the company of the volunteers and the guests of the facility, where they told us their stories, their feelings experienced over the course of these months, and without a shadow of a doubt their stories aroused many strong emotions in us.
DISCOVER THE WONDERFUL WORLD OF ANPAS VOLUNTEERS BY VISITING THE BOOTH AT EMERGENCY EXPO
Of course, there was no shortage of moments of conviviality, such as dinner with them, and also among ourselves.
Mission after mission, we realise more and more how lucky we are not to have found ourselves in that unpleasant situation that many people are unfortunately going through, and we are increasingly aware that help for them must be given not only in the immediate aftermath of the event, as we did last year when we left in March with the first missions, but, as we did in the following months with our other humanitarian missions and as we are still doing today, it must be extended over time.
Our support, therefore, will not come to an end; on the contrary, we are already at work planning and preparing another trip, always with the intention of donating material to those who have not spontaneously chosen to experience this conflict but inevitably find themselves involved in it.

So all that remains for us is to roll up our sleeves and get busy.
Read Also
Emergency Live Even More…Live: Download The New Free App Of Your Newspaper For IOS And Android
Porto Emergenza And Intersos: 6 Ambulances And A Thermocradle For Ukraine
ANPAS Volunteering: Porto Emergenza Lands At Emergency Expo
Ukraine Emergency, The Drama Of A Mother And Two Children In The Words Of Porto Emergenza Volunteers
Ukraine Emergency, From Italy To Moldova Porto Emergenza Donates A Camp Tent And An Ambulance
Porto Emergenza For Ukraine, The Third Mission Was In Lviv: An Ambulance And Humanitarian Aid To Intersos
Ukraine, MSF Teams Treating Patients After Missile Attack On Residential Building In Zaporizhzhia
OCHA (UN Humanitarian Agency): 7 Reasons Why The World Must Keep Supporting Ukraine
Why Become A Mental Health First Aider: Discover This Figure From The Anglo-Saxon World
MSF, "Together We Can Do So Much More": Partnering With Local Organisations In Kharkiv And Throughout Ukraine
Biological And Chemical Agents In Warfare: Knowing And Recognising Them For Appropriate Health Intervention
Source