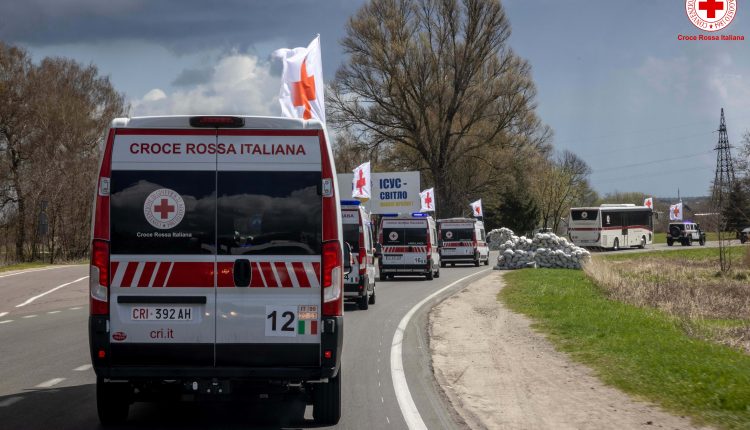 Ukraine, Red Cross humanitarian convoy returns from Lviv with 73 people, including 13 unaccompanied minors
The humanitarian mission of the Italian Red Cross has left Lviv and arrived in Italy. Yesterday it evacuated 73 fragile people, including 13 accompanied minors
The new Red Cross mission in Lviv is over
The CRI convoy, made up of 26 vehicles including ambulances, minibuses, high containment vehicles, cars and vans for various materials, with 83 people on board including volunteers, staff, doctors and paediatric specialists, OSS nurses, RFL operators, was in Lviv on Monday and Tuesday to receive and carry out the health screening of the people to be evacuated.
The people received, thanks also to the Civil Defence, will be taken to various facilities in the north and centre of Italy, also involving the Red Cross emergency centre in Marina di Massa as a first reception point.

Red Cross mission in Lviv: Ignazio Schintu recounts
"They are all people with severe frailties who need specialist care that is currently impossible to receive in Ukraine," says Ignazio Schintu, CRI's Director of Emergency Operations.
"Many of them are fleeing the areas most affected by the conflict and have faced long and difficult journeys to reach Lviv where the evacuation took place."
This is the third evacuation mission to Lviv for the ICRC, which in total has brought some 300 people to Italy to date.

Read Also:
Emergency Live Even More…Live: Download The New Free App Of Your Newspaper For IOS And Android
Invasion Of Ukraine: Four More Ambulances Have Arrived In The Lviv Region From Great Britain
Venari Group Commences Building Ambulances For Ukraine
Ukraine Receives Second Batch Of Equipment For Firefighters And Rescuers From France
War In Ukraine: Armoured Ambulances From Venari Group Arrive In Lviv
Ukraine Emergency: Vinnytsia Children's Hospital Receives Ambulance And Medicines From Its Polish Colleagues
Source: