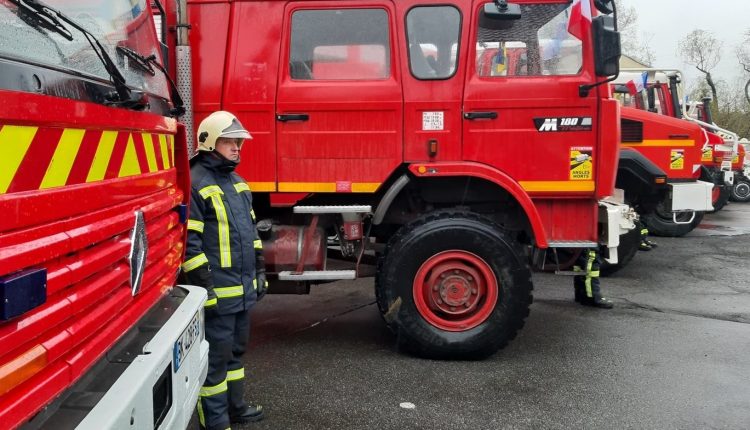 Ukraine receives second batch of equipment for firefighters and rescuers from France
The second batch of firefighting and rescue equipment from France has arrived in Ukraine
The operation is part of European Truth, according to French Ambassador to Ukraine Etienne de Poncins.
Ukraine emergency, delivery includes 24 cars and 54 tonnes of other equipment assembled in France through local initiatives
"Solidarity of France and its local communities in action.
Admiration for the dedication and courage of the Ukrainian firefighters in the face of the aggressor.
They will be better equipped," the ambassador said.
It will be recalled that the French ambassador returned from Lviv to Kiev last week.
Read Also:
Emergency Live Even More…Live: Download The New Free App Of Your Newspaper For IOS And Android
Ukraine Emergency, The Drama Of A Mother And Two Children In The Words Of Porto Emergenza Volunteers

Magirus Renounces Interschutz 2022: 'Planned Investment Will Go To Ukraine's Fire Brigade' / VIDEO
Saving Lives Despite The War: How The Ambulance System Works In Kiev (VIDEO)
War In Ukraine, Humanitarian Aid From Italy, Spain And Germany Arrived In Zaporizhia
Ukraine: The Capital Kiev Received 12 Ambulances And 8 Fire And Rescue Vehicles From Germany
Ukraine: From London's Air Ambulance Charity, StreetDoctors And CitizenAID Training Videos For War Wounded
War In Ukraine, Zhmerynka Rescuers Receive Fire Brigade Vehicle And Equipment From Germany
Emergency In Ukraine, Aosta Local Health Authority Donates Two Ambulances And A Medical Car To The Red Cross For Use In Lviv
Ukraine, A New Italian Red Cross Convoy Leaves. Rocca: 'We Will Also Bring Fragile Children To Italy'
South Africa, Ichikowitz Foundation Organises Crowdfunding And Donates Ambulances To Ukraine
Source: