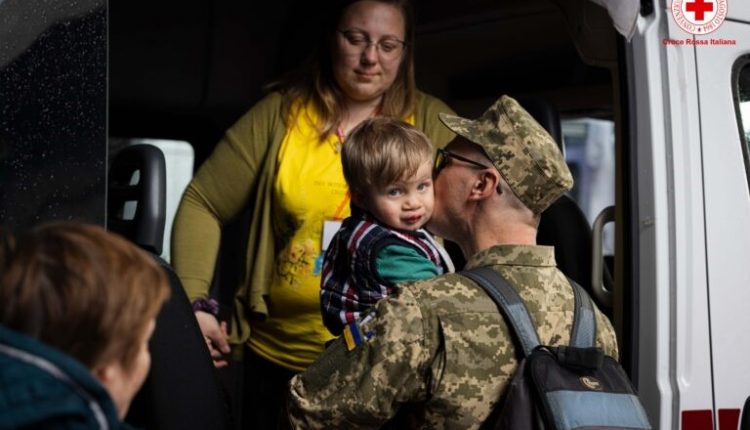 Ukraine emergency, the extraordinary story of little Makhar: the Red Cross story
Little Makhar is now in Italy with his mother, and thanks to the Red Cross he has a chance of a better future
From Vorzel, near Bucha, to Lviv and then to Italy, thanks to the Italian Red Cross.
This is the journey of Makhar, a 20-month-old child in need of tests and a delicate operation for a cleft lip and palate, currently impossible in Ukraine
The little boy was evacuated by the CRI during the last mission and is now the guest of volunteer and paediatrician Carolina Casini, a member of the team that brought him to Italy, given the impossibility of finding other housing solutions for the two.
Dad Serhij is a soldier in the Ukrainian army and is happy, despite the separation, that his family is safe in Europe and that his child has the chance to improve his life.
Mother Alona is moved and emotional and now, together with her little one, thanks to the CRI she is also undergoing psychological support, given the drama she has lived through and the fact that she and her family were locked in a cellar for three weeks before embarking on the journey to Lviv.
President Rocca's reflection on little Makhar
"This story is beautiful and representative, like so many others, of the strength of Humanity, the first," commented CRI President Francesco Rocca, "of our Principles.
Dialogue and cooperation between Sisters enable small and great miracles to be achieved.
This story will touch the hearts of many and I hope it will make people reflect on the tragic consequences that wars have on the most vulnerable".

Read Also:
Emergency Live Even More…Live: Download The New Free App Of Your Newspaper For IOS And Android
Ukraine, Red Cross Humanitarian Convoy Returns From Lviv With 73 People, Including 13 Unaccompanied Minors
Invasion Of Ukraine, From Today The Italian Red Cross Humanitarian Aid Hub In Romania Is Operative
War In Ukraine, Ambulance Fitters On The Front Line: Validus Sends Emergency Vehicles To Kiev, Cherkasy And Dnieper
Ukraine, Rivne Receives Ambulance, Van And Medical Equipment From France And Germany
War In Ukraine, Since 24 February The Red Cross Has Already Trained More Than 45,600 People In First Aid
Ternopil, Blsd Training For Ukrainian Red Cross Volunteers
Ukraine, Health Ministry Disseminates Information On How To Provide First Aid In Case Of Phosphorus Burns
Source: